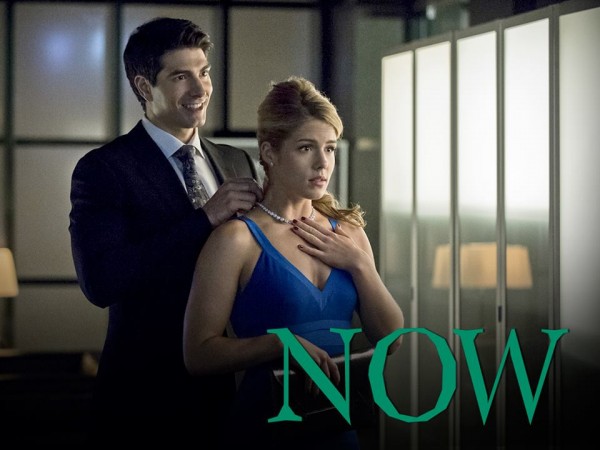 Ray Palmer (Brandon Routh) and Felicity Smoak's (Emily Bett Rickards) relationship may take a new turn when "Arrow" Season 3 returns on The CW with episode 18, titled "Public Enemy".
While the new superhero in Starling City has some special feelings for his friend, the IT technician may also develop a love interest for him in the next sequel after he encounters a danger.
According to the official synopsis of episode 18, Routh's character will get critically injured in an attack on the mayor's office and the alleged couple will get to spend some time together in the hospital; however, they will have a surprise visitor.
Charlotte Ross will reprise her role as Donna Smoak and Rickards' character will be pleasantly surprised when her mother shows up at the hospital to offer her support. However, the sneak peek images of next Wednesday night's episode indicate that Ross' character will not be impressed with the Atom so Raylicity haters may have a reason to celebrate.
Meanwhile, fans of the supernatural series also have another reason to rejoice as the Iconic Trio, Oliver Queen aka Green Arrow (Stephen Amell), Laurel Lance aka Black Canary (Katie Cassidy) and Roy Harper aka Arsenal (Colton Haynes), could share screen space on 1 April.
The description of next week's episode states that Oliver and team will work hard to find the assailant and stay ahead of police when the SCPDwill be out in full force looking for the one who is responsible.

In the meantime, a "Public Enemy" will be back in Starling City and it's none other than Ra's al Ghul (Matthew Nable). But this time around, League of Assassins leader will not target Amell's character or anybody from his team; rather he will kidnap Captain Lance (Paul Blackthorne).
So it remains to be seen how the protectors will save police captain from the custody of the most powerful villain. "Arrow" fans may also get a chance to watch Thea Queen (Willa Holland) and Harper trying to reconnect with each other.
Until the supernatural drama brings some exiting sequences on 1 April, viewers can tune in to The CW this Wednesday, 25 March, at 8 pm for episode 17 of Season 3, titled "Suicidal Tendencies", which will be live streamed here.