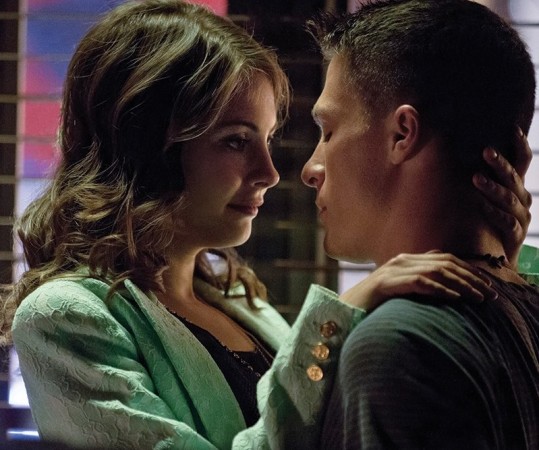 "Arrow" season 3 episode 20 titled "The Fallen" will once again take viewers to Nanda Parbat. But this time around instead of Malcolm Merlyn (John Barrowman) Thea Queen (Willa Holland) will be the target of Ra's al Ghul (Matthew Nable).
The official synopsis of The CW series states that Nable's characters will finally make Oliver Queen (Stephen Amell) an offer he can't refuse.
Meanwhile, the extended trailer of the sequel shows Holland's character arguing with the League of Assassins leader. She even challenges the evil character and a fan theory has hinted that she will have to pay for her courageous act.
"R'as al Ghul will capture Thea and threaten to murder her if Oliver doesn't take the offer, so Amell's character has no choice but to accept", wrote a viewer on Reedit.
But Amell's character will not be alone in his fight for justice as the description states that team Arrow will join him on his journey to Nanda Parbat and a heartbroken Felicity Smoak (Emily Bett Rickards) will decide to take matters in her own hands.
Olicity fans have already seen a glimpse of the steamy romantic scene between their favourite characters in the sneak peek video of the supernatural series. But it does not assure the beginning of a relationship because Amell had recently revealed that they are "going to stay in a very heightened state of flux for the rest of the season".
In the meantime, a photo posted by Amell on Facebook last month shows him in front of the intensive care unit in Arrow costume, according to Comic Book.
Though it is an elaborate selfie shot and none of the other characters of the supernatural series are seen around him, it can be assumed that Roy Harper aka Arsenal (Colton Haynes) is in hospital due to his severe injury caused by a prison riot.
However, "Arrow" fans will have to wait until 22 April to find out if Thea or Harper will be "The Fallen" next week. But they can watch Arsenal's struggles in jail this Wednesday, 15 April, at 8pm on The CW, which will be live streamed here.