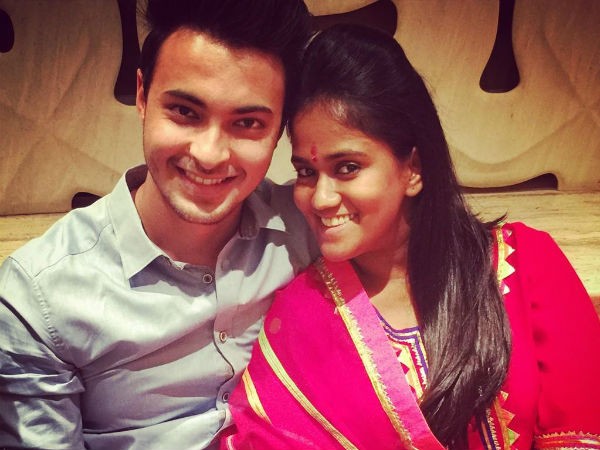 Salman Khan's sister Arpita will be marrying her long-time boyfriend Aayush Sharma on 18 November in Hyderabad. However, this was not the original wedding date.
Earlier, the wedding was supposed to take place in January 2015. But, Arpita, who is the adopted daughter to Salman's father Salim Khan and mother Salma, rescheduled the date to coincide with her parents' golden anniversary to make it a double celebration for the family, according to a report in Emirates 24/7.
And to keep their daughter's wish, the two families agreed on an early wedding.
And now, Salman and the entire family have been busy with the last-minute preparations for the big day.
The Falaknuma Palace in Hyderbad has been booked for two days for the grand celebration and the invitation cards has been distributed to several biggies from the world of politics, cricket, business and the film industries of Mumbai as well as the South.
Bollywood celebs who will attend Arpita's grand wedding include Katrina Kaif, Aamir Khan and wife Kiran Rao, Sajid Nadiadwala and family, Karan Johar, David Dhawan and family and Hema Malini and Dharmendra. From down South, Chiranjeevi and son Ram Charan will attend the ceremony to bless the couple.
While it is known that Salman's father has extended his invitation to Prime Minister Narendra Modi, reports suggest that Modi is unlikely to attend the reception.
"Mere conjecture, the Prime Minister has to look at his schedule. Also, there is the security issue. How can the Prime Minister attend a wedding which is likely to have innumerable gate- crashers because of superstar Salman's presence?" a source from Bharatiya Janata Party (BJP) told Deccan Chronicle.
Speaking about the PM on attending the wedding, BJP MP Shatrughan Sinha said, "Firstly, I am not a spokesperson for either the Prime Minister or the party. It would be nice to see Mr Modi take some time off for this wedding as Salman and his family seem to be very fond of him."
The marriage will be performed as per Hindu traditions at the royal mansion followed by a reception at Mumbai on 21 November.