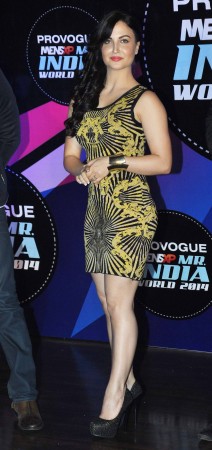 Apart from a star-studded guest list, Salman Khan's sister Arpita Khan will have Elli Avram giving a special performance on her wedding day (18 November) at the Royal Falaknuma Palace, Hyderabad.
"Salman's dear friend Elli Avram will do a special performance in the wedding and she has been rehearsing for the D Day since quite a few days. Elli is very excited to perform at the wedding and make it special for Arpita," stated a Emirates 24/7 report.
Avram, who has been the superstar's 'special' friend right from the 'Bigg Boss 7' days, was also invited for his rakhi sister's marriage ceremony in Goa. According to reports, the actor also made sure Avram was comfortable and stuck to her through the wedding.
The 24-year-old Swedish actress' association with the "Kick" star doesn't end here. She has also been spotted attending private parties and events held at the Khan house. Avram is currently shooting for her debut film opposite funnyman Kapil Sharma. Thrilled and excited, she took to twitter to express her joy over kick-starting her second Bollywood project.
Arpita, who is set to get married to Delhi-based fiancé Aayush Sharma, will for sure have a spectacular wedding. Since it's a special event for Salman's family, they are trying their best to make it a memorable experience for one and all.
Apart from the popular personalities slated to attend the function, even the wedding card has been doing the rounds on websites for a while. "It is a gold-plated invitation card with beautiful rose print, which is presented in a box along with leaflets for each day of the pre-wedding functions. And that's not all, the guests are treated to a special batch of cupcakes with the card," reported Indian Express.
The couple will be blessed by bigwigs of the film industry such as Shah Rukh Khan, Aamir Khan, Ajay Devgn, Akshay Kumar, Karan Johar, Kareena Kapoor Khan and Subhash Ghai among others. However, there have also been conjectures that Narendra Modi, Sonia and Rahul Gandhi have also been sent invites.