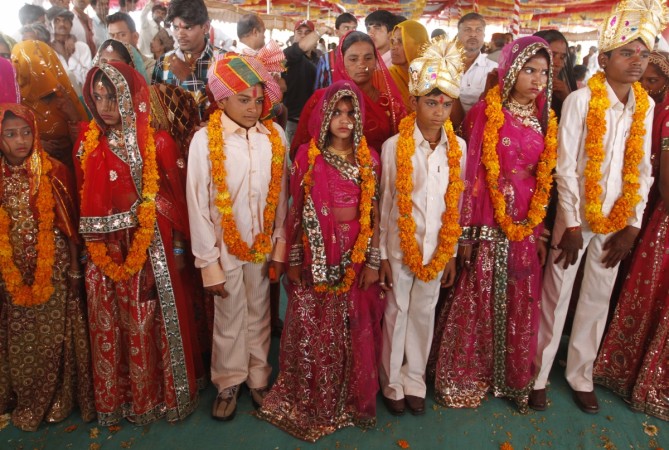 Around 61 out of 130 girls who were married at 14 years experienced "broken marriages", reveals a study conducted among 130 young women in Karnataka by Samajika Parivathana Janandolana, an alliance supported by the NGO CRY.
The study was released at the "Round Table on Early Girl Child Marriages in Karnataka", inaugurated by Shivraj Patil, former Judge in the Supreme Court, in Bengaluru on Thursday.
"One out of three early girl child marriages results in a broken marriage and thus places the child in an even more vulnerable situation in a patriarchal society," the study said, according to a press release by the NGO.
The study aimed at establishing the nexus between broken marriages, early girl child marriages and education opportunities among girls. Interviews were conducted of 130 women in the 18-25 age group, hailing from six districts of Karnataka — Raichur, Gulbarga, Belgaum, Haveri, Davangere and Bangalore.
Revealing the connection between drop-outs and early marriages, the study notes that around 106 girls of the total respondents had dropped-out of the school before completing 10th standard. Shockingly, 91% of the drop-outs were married at 16 years. As many as 20 girls had never been to school, reveals the study.
The research says around half of the respondents could not access high schools because of long commuting distances. The study also noted that 29 per cent of the girls were married to an uneducated man.
"Child Marriage is a very serious child and human rights violation which robs children of their rightful happy childhood. Hence, a strong framework of policies to ensure the safety and rights of girl children in the age group of 11-18 years is the need of the hour," said Suma Ravi, Regional Director (South), CRY.
The study also highlights that mass marriages and Gujjar marriages in North Karnataka as emerging trends in early girl-child marriages.
According to Ravi, education is crucial for breaking the vicious cycle of "poverty-caste-patriarchy-denial of education-child marriage." Girls are forced to dawn the role of motherhood at a very young age in communitites, where opportunities for higher education are poor, she added.