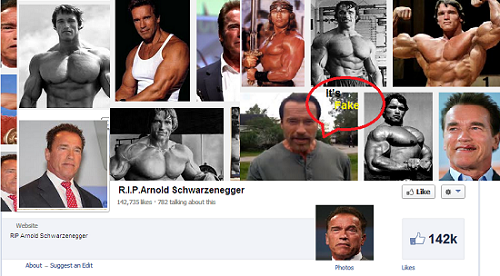 A rumor, kickstarted by the Global Associated News, claiming actor and former California Governor Arnold Schwarzenegger is dead, following a snowboard accident in Switzerland, gained much momentum especially after a fan put up a RIP Arnold Schwarzenegger Facebook page.
The report said:"Actor Arnold Schwarzenegger is reported to have died shortly after a snowboard accident earlier today - 11 February 2014."
This will be second time this year that a death hoax on Schwarzenegger has been reported. The first fake death news on the actor surfaced last Sunday.
Though it has been established that Schwarzenegger's death is just another hoax, the news still continues to make its way around the internet. Many even paid tributes to the actor-politician on social media platforms.
Media Mass also confirmed that hoax news and stated: "Rumors of the actor's alleged demise gained traction on Sunday after a 'R.I.P. Arnold Schwarzenegger' Facebook page attracted nearly one million of 'likes'." The Facebook page was taken down.
The hoax claimed that the actor died shortly after a snowboard accident during his vacation at the Zermatt ski resort in Switzerland with family and friends. The report, quoting eye witnesses, stated: "He lost control of his snowboard and struck a tree at a high speed." Interestingly, the storyline sounds quite similar to the tragedy that befell fomer F1 racer Michael Schumacher. The news report stated that Schwarzenegger died while being flown to the hospital.
It has now come to light that Global Associated News is responsible for majority of the false reports. The site was developed by Atlanta-based web entrepreneur Rich Hoover. The website is a front for Fake a Wish, which allows users to type in a celeb's name and generate death headlines.