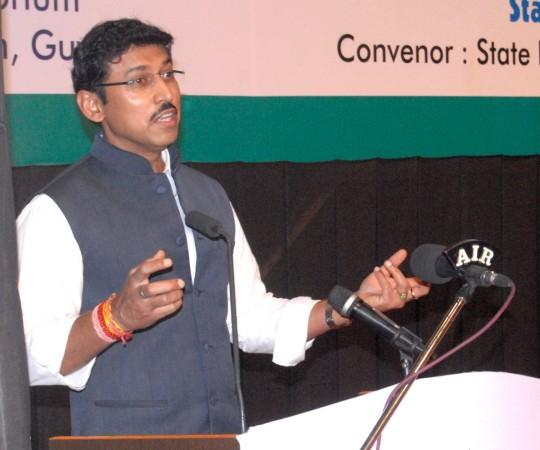 Minister of State for Information & Broadcasting Rajyavardhan Rathore praised Prime Minister Narendra Modi for giving a go ahead to the Indian Army to carry out a strike against the militants along the India-Myanmar border in retaliation to the killing of 18 soldiers in the recent Manipur ambush.
Rathore, who is also a retired Army Colonel, said that the Indian government's move was necessary in view of the growing militant attacks. He said that this will act as a message to all nations, including Pakistan, which are harbouring terrorists.
"It was a much-needed decision that was taken by the Prime Minister. This decision was extremely bold in nature. And it involved our Special Forces crossing the border and going deep into another country," Rathore told The Indian Express.
"We will not tolerate any strikes on India or Indians. We'll always wield the initiative on either being friendly or engaging in aggressive action. We will strike at a place and at a time of our choosing," Rathore said, underlining this as the 'essence of warfare'," he said.
"This is a message for all countries, including Pakistan, and groups harbouring terror intent towards India. A terrorist is a terrorist and has no other identity. We will strike when we want to," he added.
He further praised Modi for the bold move on Twitter with hashtag "56inchesrock".
Bravo to @PMOIndia for taking the bold risk in Myanmar and @adgpi and all our soldiers and the IAF for your eternal valour @Ra_THORe

— barkha dutt (@BDUTT) June 9, 2015
Indian Army strikes into the heart of militants.देश के दुश्मनों को करारा जवाब. कुशल नेतृत्व ,मज़बूत सरकार PM @narendramodi #56inchRocks — Rajyavardhan Rathore (@Ra_THORe) June 9, 2015
Describing the Army's mission along the border, Rathore said that Indian forces "completely annihilated" two groups of militants and returned without even a single casualty.
"Both camps were struck and were completely annihilated. The Special Forces returned without a single casualty," the Olympic silver medallist said.
The Modi government decided to hit out at the militants in a befitting reply to the deadly attack on the Indian Army, in which 18 soldiers were martyred.
On receiving specific intelligence inputs of more such attacks being planned by the rebel groups, the Indian Army in coordination with Myanmar launched an operation along the Indo-Myanmar border. Several militants were shot dead in the retaliatory attack.
"Credible and specific intelligence was received about further attacks that were being planned out by some of the groups involved in earlier attacks on our security personnel and their allies," Additional Director General (Military Operations) Major General Ranbir Singh said, IANS reported.
"Based on intelligence, we conducted operations to counter these planned assaults. Early this morning, the Indian Army engaged two separate groups of insurgents along the Indo-Myanmar border at two locations, along Nagaland and Manipur borders," Singh added.
Major Singh said that this operation has averted threats to civilians and military forces in India.
"Significant casualties have been inflicted on them. As a consequence, threats to our civilian population and security forces was averted," he said.