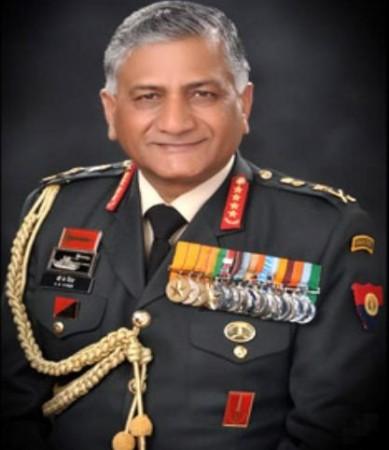 The Indian Army has asked the Ministry of Defence (MoD) to order a high-level probe into a secret intelligence unit, suspected of executing 'unauthorised operations' and financial wrongdoings, set up by former army chief General V K Singh.
According to General Singh, the move is politically motivated as he supports Bharatiya Janata Party (BJP).
As per a PTI report, the army has submitted a report to the MoD about a Technical Support Division (TSD), which was suspected of tapping phone lines of senior MoD officials through off-air equipments.
The issue first came to light in 2012, during the controversy over General Singh's date of birth. Based on the army report prepared by Director General Military Operations Lt General Vinod Bhatia, the ministry has ordered a probe into the functioning of the top secret intelligence unit.
The Bhatia-led committee has reportedly accused the TSD of conducting 'unauthorised operations' which took place across border lines as well, without getting clearance from the Central Government.
"This is simple vendetta as some people are not comfortable with me sharing the dais with Narendra Modi to espouse the cause of ex-servicemen in the country," said Gen V K Singh. He had addressed a rally held by BJP's prime ministerial candidate Narendra Modi in Rewari, Haryana, on 15 September.
"When VK Singh was at the helm,speaking up for integrity, he was a hero! Now that he has spoken as an insider, efforts will b to shoot him down. Govt must deal with Gen VK Singh with maturity. Millions of persons in armed forces r watching this.Now that he is speaking up for them also," tweeted Kiran Bedi, social activist and former IPS officer.
The army has declined to comment on the matter. Moreover, officials within the army do not want to carry out a probe against the Intel unit, as it might be perceived as taking action against their former chief, sources told PTI.