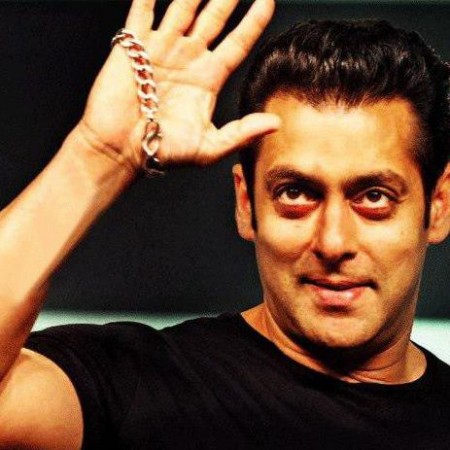 Bollywood actor Salman Khan was on Wednesday left perplexed when a court in Jodhpur asked him about his caste. After some thought, he said: "Hindu and Muslim".
Salman Khan pleaded "not guilty" on Wednesday in an arms case being heard at the Jodhpur court.
Before recording Salman's statement, Chief Judicial Magistrate Anupama Bijlani asked him his name, father's name, profession and other details to mention in the court's form.
Salman answered everything, but he got confused when the court asked about his caste.
He gave a puzzled look to the court as well to his counsel and bodyguard and after few seconds someone from the crowd suggested he say "Muslim". But he said to the court "Hindu and Muslim" both.
Salman told the court that his father is a Muslim and mother is a Hindu.
The Bollywood actor was in Jodhpur to record his statement under Section 313 of the the chief judicial magistrate's (CJM) court in Jodhpur in the 17-year-old case.
Bijlani on 23 April asked Salman's counsel to ensure his presence in the court on 29 April.
On Wednesday, the actor was present in the court along with his counsel and answered the questions posed by the court.
Salman and a few other Bollywood stars were accused of poaching blackbucks on the midnight of October 1-2, 1998, during the shooting of Hindi movie "Hum Saath Saath Hain".
Two blackbucks, a protected animal under the Wildlife Protection Act, were killed on the outskirts of Kankani village near Jodhpur. Salman is accused of carrying and using illegal arms in that incident. He is also alleged to have been carrying arms with expired licence.
Salman's sister Alvira and his bodyguard Shera were present during Wednesday's proceedings in an overcrowded courtroom. Salman said he has been falsely implicated in this case by the officers of the forest department.
"I am innocent and I have done nothing wrong," Salman told the court.
The court asked him if he wanted to present any witness in his defence, to which Salman nodded positively.
"The court has now posted the matter on 4 May for further hearing," Hastimal Saraswat, counsel for Salman, told IANS over phone.
The court heard both counsel over an application moved by the then forest officer Lalit Bora, who is witness in the case in which Salman is accused of misleading the court.
Salman's counsel H.M. Sarswat told the court that Salman was suffering from a severe infection in his ear and was taking painkillers.
The court of the chief judicial magistrate had asked Salman to appear before it for recording his statement on 23April, but he failed to come.
(With Inputs from IANS)