The Islamic State (ISIS) militants claimed on Twitter that they had the 'dirty bomb' and had 'terror' plans for London, confirming fears raised by the United Nations(UN) back in July.
Several ISIS affiliate accounts made the claim in the last few days that the militant group had the capacity to make the ' Bomb' using 40kg of Uranium that the group 'stole' from the Mosul University some four months ago.
The details of the 'dirty bomb' emerged recently after the ISIS fighters boasted on Twitter of the chaos they could wreck in London. A "dirty bomb" is a type of radiological dispersal device (RDD) that combines conventional explosives, such as dynamite, with radioactive material.
A Mirror report claimed that British ISIS fanatics were seen boasting of the possible destruction in the UK.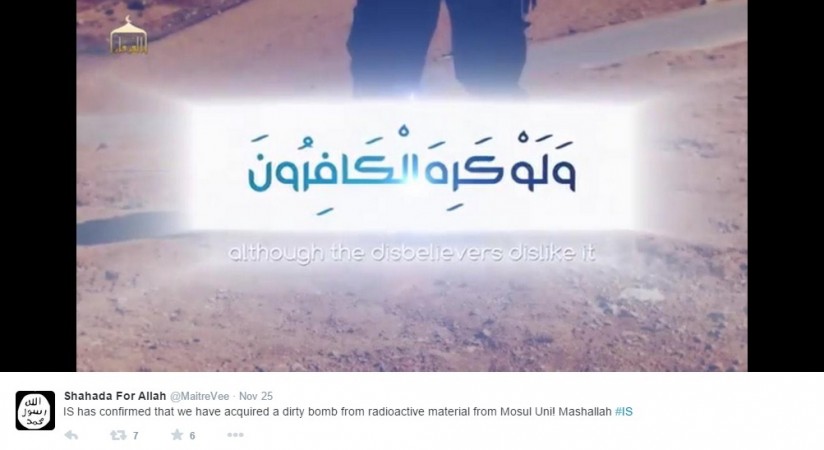 An ISIS fanatic, identified as Hamayun Tariq of Dudley, West Midlands, revealed on social media that the group had the bomb ready, made using nuclear material.
In one of the posts, Tariq, who goes by the name of Muslim-al-Britani on Twitter said: "O by the way Islamic State does have a Dirty bomb. We found some Radio active material from Mosul university."
In another post, he said:"We'll find out what dirty bombs are and what they do. We'll also discuss what might happen if one actually went off in a public area.
"This sort of a bomb would be terribly destructive if went off In LONDON becuz it would be more of a disruptive than a destructive weapon," he added.
The British national, Tariq, 37, fled UK in 2012 after being released on bail for terror charges. His British passport has been cancelled by the Home Office, and he is now known to be in Syria working for ISIS.
In July, a Reuters report citing a warning issued by Iraq's UN Ambassador Mohamed Ali Alhakim, said that the ISIS had seized nuclear materials used for scientific research at a university in the country's north.
The UN ambassador to Iraq, in his letter to the United Nations Secretary-General Ban Ki-moon, had warned that such material "can be used in manufacturing weapons of mass destruction."
"These nuclear materials, despite the limited amounts mentioned, can enable terrorist groups, with the availability of the required expertise, to use it separate or in combination with other materials in its terrorist acts," said Alhakim.
He had also warned that they could also be smuggled out of Iraq.