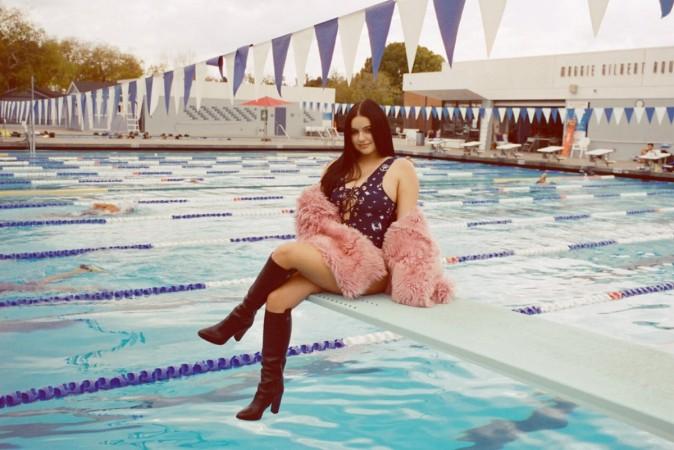 Modern Family actress Ariel Winter loves to flaunt her curves in barely-there outfits and that's exactly what she did during a recent getaway to Disneyland.
Photographs from her day out at the attraction shows her flaunting her cleavage in a grey-hued romper, and the actress risked a serious wardrobe malfunction as she ditched her bra. The outfit showed off her curves and it barely covered her pert posterior.
Also read: Chrissy Teigen reveals her gorgeous looks are due to plastic surgeries and not good genes
Earlier this week, Winter grabbed headlines for flashing too much skin during an event to promote the finale of Modern Family Season 8. The actress was dressed in a gold-coloured mini dress that showed off her ample chests, and netizens were quick to bash her for dressing too provocatively. It did not help that the other cast members were dressed rather casually for the event.
"That girl @arielwinter1 oozes insecurity and is 2 minutes away from being like or worse than Lindsay Lohan. Sad," one comment read. "Look how modestly everyone is dressed...except @arielwinter1" another read.
Our wonderful cast at the #ModernFamily FYC Event! ❤️ pic.twitter.com/q1z4dsACdG

— Modern Family (@ModernFam) May 4, 2017
Winter did not let the criticism slide, and she took to her Instagram page to fire back asking people to let her be.
"Why the f*** does everyone care that I didn't dress casual like everyone else for the panel?" she questioned. "Why can't people just let other people feel good about themselves and do what they want? Don't ever let anyone stifle who you are and how you express yourself."
A post shared by ARIEL WINTER (@arielwinter) on May 4, 2017 at 5:57pm PDT