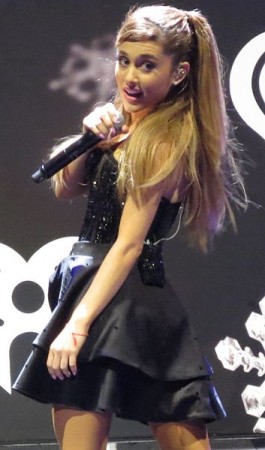 Now that Ariana Grande and Jai Brooks are back together, the latter is trying his best to keep things interesting and spicy. The "Janoskians" member shared a sexy picture of himself doing some weight training at the gym.
Brooks captioned the picture with a big smiley and he can be seen flaunting his eye popping biceps. Dressed in a black vest and beige track pants he has his earphones on.
Fans wonder whether Brooks is trying to show Grande his sexy side.
Brooks posted the photo on May 4 and if his hot body is anything to go by, then no wonder Grande got back with him.
In October last year, Brooks had accused Grande of cheating on him. In a very public twitter rant he had accused the singer of being unfaithful with "The Wanted" singer Nathan Sykes.
However, Grande broke-up with Sykes, after a few months of dating and is now once again in a relationship with Brooks.
So what did Brooks do to get her back?
"He initially got jealous that she was singing with all of these guys and accused her of cheating on him, which wasn't true. When he came and apologized to her and begged for a second chance, she decided to follow her heart and give him one. She never cheated on him and has always loved him, " a source revealed to Hollywoodlife.
However, another insider has a totally different story to tell.
"He did not beg her to come back, it's completely the other way around. You know, they're happy. She's the one that came back after him. They decided to let the past be the past, " the insider revealed.
Grande and Brooks went public with their relationship when they were seen kissing backstage at the recently concluded iHeart Music Awards.
[ED:VS]