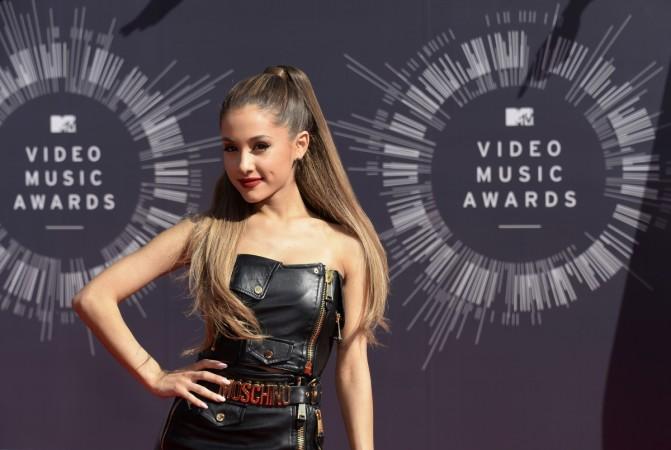 There is no shortage of reports detailing pop princess Ariana Grande's alleged diva demands, which include a diktat to the media to not take pictures of her left profile, and also avoid any mention of Mariah Carey.
And now, a new report claims that Grande's insistence that she be carried around whenever she feels like can be added to the growing list of her crazy demands. Grande reportedly insists that her staff carry her when she is too tired to walk, and according to Life&Style, a source who witnessed the 21-year-old being carried around was stunned by Grande's diva behaviour.
"Her new rule is that she has to be carried — literally carried like a baby — when she doesn't feel like walking. She says that she doesn't want her precious feet to hit the floor," the source who witnessed Grande get a lift from her staff while filming her latest music video and again at rehearsals for the Victoria's Secret Fashion Show, said.
"Everyone was stunned. Ariana is such a diva," the source added.
A representative for Grande has since told GossipCop that the claims in the report are fake, but the singer herself has documented that she gets carried around by her staff through pictures on her Instagram account.
In an Instagram picture from last December, she described being carried off the stage her "post show ritual when my feet are broken." In another photo she is shown wrapped in a blanket and carried by someone, while a crew member holds an umbrella over her.
"Long shoot day yesterday, couldn't walk or keep my eyes open by the time we finished," the singer captioned the picture.
It is not immediately known what Grande's boyfriend Big Sean thinks of her diva behaviour, but a report had earlier claimed that he was getting tired of some of her antics. This includes her tendency to talk in a baby voice, even when they are getting intimate.
"Instead of saying. 'I'm thirsty,' she'll pout her lips and say, 'I want to dwink a widdle hoosh,'" a friend told Star, according to Oceanup. "Sean thought she was kidding at first, but now he's had it."
Big Sean is also reportedly tired of her signature ponytail. "He's totally encouraging her to wear her hair down more. She's attached to her big ponytail because it makes her feel protected and more confident, but he's making her feel like she doesn't need that. He tells her she's beautiful with the ponytail too, but he's been encouraging her to wear her hair down more, he likes it."