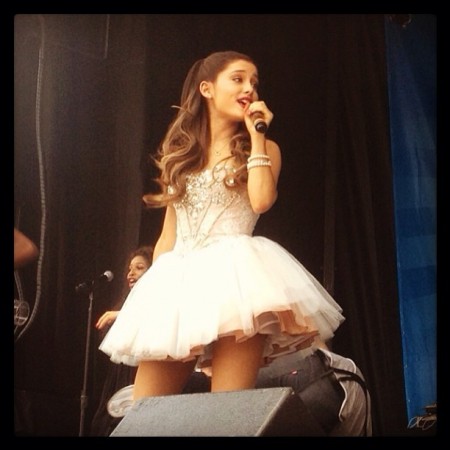 Ariana Grande has reportedly hurt herself. The " Sam And Cat" star slipped on dog's pee and broke her three toes. The incident happened on March 23 while Grande was coming back from a party, after which she shared the hilarious incident with manager Scooter Braun via SMS.
"Had a party last night and in front of lot of people I slipped on a huge surprise pile of Ophelia piss, slammed into a wall and broke 3 toes. Have a great day, " Grande wrote to Braun.
Braun posted Grande's message on his official Instagram account and wrote, " This is a kind of text that gets me pumped for the new week. Thank You."
The post of Ariana's slipping on the pee received more than 53,000 likes and though it might not be funny for her fans, Braun found it extremely hysterical.
Grande is currently making waves with her new music video with Chris Brown titled " Don't Be Gone For So Long". The song was supposed to release this week has been postponed due to Brown's arrest However, not getting disappointed by the delay, Grande teased some songs from her sophomore album.
The first song which Grande teased was " My Evertything". The first few lines of the song go like this, "He wasn't my everything till we were nothing and it's taken me a lot to say/nobody's gone my heart is missing something/ so it's time to push my pride away/cause you are you are my everything,"
The second song which Grande teased was "They Don't Understand". The 30 second tease of the song had the lyrics, "Then they try to tell me who I am/ They don't understand/ They don't understand/ You want a perfect picture to believe in/ Then you can't be looking at me then."
After breaking-up with Nathan Sykes, Grande has been keenly focusing on her career and her recent collaboration with Brown and the new album are probably just a start to her stardom.