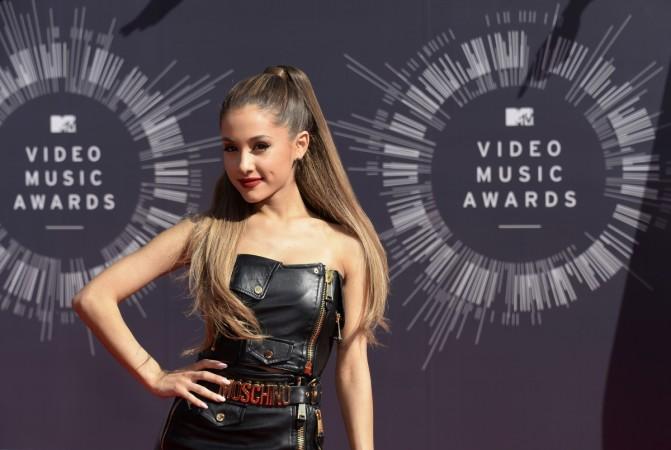 A new hoax claiming that Ariana Grande is pregnant with Big Sean's baby has managed to fool a number of her fans, who immediately took to Twitter to verify the authenticity of the report.
The news by satire website Huzlers claimed that Grande tweeted about her pregnancy on Twitter, and to support their claim, the website even posted online a photoshopped snapshot of the alleged tweet, which shows a pregnancy test that reads positive. The report further noted that because Grande mentioned Sean in the tweet, it could only mean that he could be the father of the baby.
Reportedly, Grande deleted the tweet a while later as she did not want many people to know about her pregnancy.
Sadly, a number of Grande fans believed the fake story, and began tweeting about it. "Is it True Ariana Grande is Pregnant? If so, she just ruined it.......#DumAss," wrote one, while another fan shared the photoshopped pregnancy test result on her microblogging site claiming that "Little Sean is in the oven."
ARIANA GRANDE IS PREGNANT. Little Sean is in the oven!! pic.twitter.com/gcOBgaB4oK

— liz villeneuve (@vi3lizabeth) September 3, 2014
It is not surprising that fans believed the story as Grande and Sean sparked romance rumours late last month when they were caught holding hands at the VMAs. Early in August, a fan even claimed to have caught them kissing during a movie date.
They reportedly became close after working together on the track "Big Mistake."
"They have been friends since they made the song together," a source previously told E! News. "They have been spending more time together and recently have been getting very close. They are both doing great."
Grande has remained tight-lipped about the romance, and when questioned about it during an appearance on "On Air With Ryan Seacrest," all she said was she would tell Seacrest the truth in private.
"I mean, I guess, curiosity man, it'll kill you. I don't know what to say, Ryan. Why are you doing this me? I'll tell you when we're not on the air. I trust you. I've known you a long time. I don't know about these millions of people listening in right now," the 21-year-old said, according to Mirror.