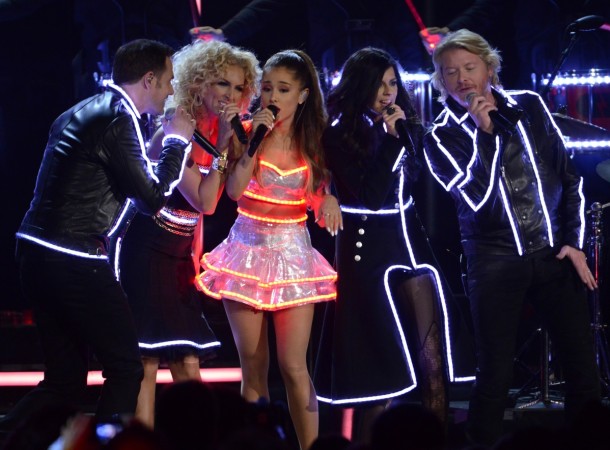 On more than one occasion Ariana Grande has been accused of being a diva, the recent one being that she prefers to be carried around when she's too tired to walk.
But boyfriend Big Sean does not feel there is any truth to these claims, and he said as much during a chat with The Breakfast Club co-host Charlamagne Tha God.
"That don't even sound logical," Big Sean said, according to HollywoodLife. "No, man, she don't get carried. I remember I was with her one time and she got carried but it was 'cause her foot was bleeding. She busted her foot, like, you know, dancing and stuff."
"That's ridiculous," he added.
The pint-sized singer herself has documented that she gets carried around by her staff through pictures on her Instagram account. In a picture from last December, she described being carried off the stage her "post show ritual when my feet are broken." In another photo she is shown wrapped in a blanket and carried by someone, while a crew member holds an umbrella over her.
News of Grande's diva behaviour has been pouring in for months now, and in August, a dad's blog post accusing the singer of being rather rude around few teenagers who won a contest to meet her garnered much media attention.
Dan O'Connor described in his post how MTV, VH1, and Pepsi arranged for his daughters, Jen and Kelly, to meet Grande, and how they were disappointed that Grande didn't even bother to inquire the names of the winners. And although the singer posed for pictures, she immediately requested that they be deleted.
"'Delete those pictures, please' was all Ariana said." O'Connor wrote. "'Can I just keep the one of my sister showing you the drawing?' asked Kel. Ariana turned to her security and ordered, 'Make sure she deleted those.'"
Just a month after this incident, in September, Australian photographer Chris Pavlich revealed yet another diva behaviour of Grande, saying she refused to be photographed from her right side or with natural light.
He had to reportedly abandon their shoot as halfway through the session Grande left complaining to her representatives that she was unhappy with how her top looked. It was reported that Grande's reps even demanded that Pavlich delete all of his photos.