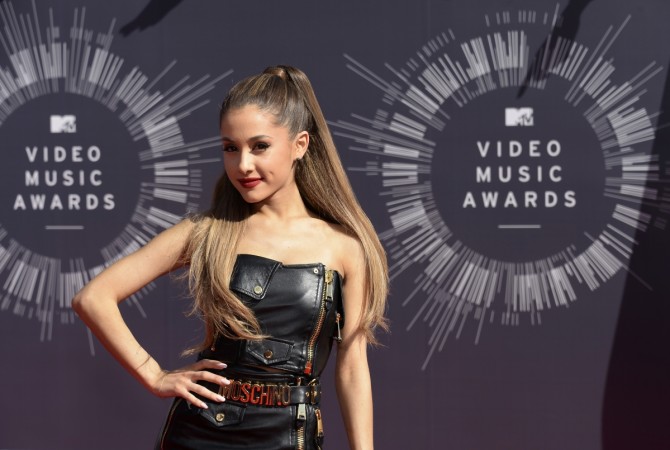 Ariana Grande had to go through yet another near-death experience when the small plane she was travelling in dropped mid-air, resulting in oxygen masks to drop down.
The pint-sized singer was accompanied by her friends, including director and editor Alfredo Flores, who detailed the incident on his social media page.
Uploading a picture of Grande and gang wearing oxygen masks, Flores said that it was one of the craziest plane rides ever.
"Craziest plane ride. Altitude dropped, oxygen masks came down and the flight attendant starts frantically telling us to fasten the seat belts and put on the masks," Flores captioned the picture on 17 March, shortly after they landed safely in Houston, Texas.
While Flores panicked, Grande, who is dating Big Sean, soon started cracking jokes to keep everyone calm. "I freaked out for 3 seconds but Ari busted out the jokes quick. It was all good. We made it Houston!" he wrote.
Interestingly, this is Grande's second near death experience in as many days. She nearly died during a performance on her Honeymoon Tour on 26 February when the wooden lift meant to raise her up on the stage malfunctioned and the singer was left hanging off the stage.
Detailing the accident, Grande said in a video clip posted to her "Honeymoon Diary" YouTube channel that she believed she was going to be crushed under a metal thing.
"You need to know what happened during 'Love Me Harder'," Grande tells her crew in the video. "For those of you watching I'm supposed to be going up in this lift for 'Love You Harder' in this wooden thing that raises up. So the wooden thing breaks and I'm about to be crushed by some mechanical, metal [stuff]."
While Grande has a tendency to get caught up in dangerous situations, she strangely has an obsession with death as well. Here are a few times Grande tweeted about almost dying.
every night after the shows jones n fredo show me footage of y'all singing along / being all cute in the audience & i die. you have no idea.

— Ariana Grande (@ArianaGrande) March 11, 2015
that time i almost died during "love me harder" (but actually this time) http://t.co/DlWBDjPX8L °₊·ˈ∗ ∗ˈ‧ °☆ˈ∗ˈ‧₊° — Ariana Grande (@ArianaGrande) February 27, 2015
tune into the #VSFashionShow tonight at10/9c! hopefully they don't air the take when I almost died via angel wing. x pic.twitter.com/gw4WRxMowi

— Ariana Grande (@ArianaGrande) December 9, 2014
when u slip on confetti & almost die at madison square garden http://t.co/uufkvoCwGV — Ariana Grande (@ArianaGrande) December 14, 2014