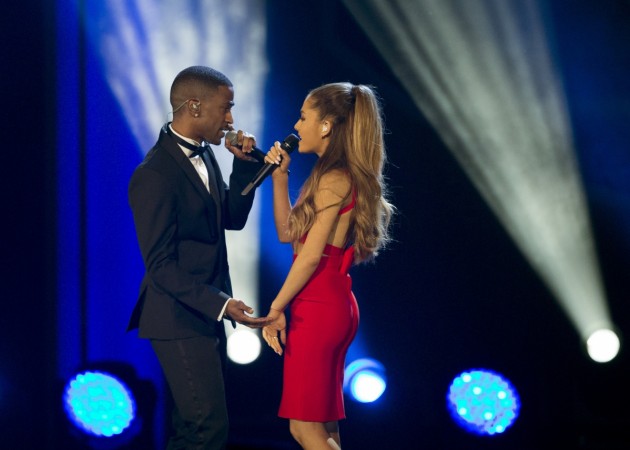 Ariana Grande's relationship with Big Sean appears to be heating up, and the couple packed in a lot of public display of affection during their performance on Saturday at the KIIS FM Jingle Ball.
The duo sang Best Mistake together and they shared an intimate moment when Big Sean attempted to grab Grande and kiss her. This incident has been captured and uploaded on KIIS' Facebook page.
As their relationship progresses, talks of Big Sean's alleged desire to pop the question have also gained momentum. But marriage might have to wait, as the duo is still in the honeymoon phase of their relationship, HollywoodLife source said.
"He wants it to be 100%. They [Big Sean and Ariana] are in a honeymoon phase right now, but don't expect any real honeymoons as they are both not ready to take it to that level," the source said.
But that doesn't mean marriage is off the table. Currently, the two are reportedly focusing on spending as much time together as possible and recently, she said that getting together with Big Sean was one of the highlights of the year.
As one of the female artists featured on Billboard's "Woman In Music 2014", Grande was asked to name her favourite moments of 2014, and she said: "Performing on the [MTV Video Music Awards] with Jessie [J] and Nicki [Minaj]. Putting out 'Problem.' Spending half of June and most of July with my family in Florida. And, um, [boyfriend Big] Sean."
Big Sean and Grande, who have been friends for a while, announced their relationship in October when she told UK's Telegraph that Big Sean was one of the most important men in her life.
"He is one of the most amazing men in the world, and that includes my grandfather and my brother. I think the world of him, and he's an amazing person. That's kind of all there is to it," she said.
Soon after announcing their relationship, Grande was spotted wearing a necklace similar to the one Big Sean owned. The necklace, reportedly, was a gift from Big Sean, and he wanted it to represent the special relationship they shared.