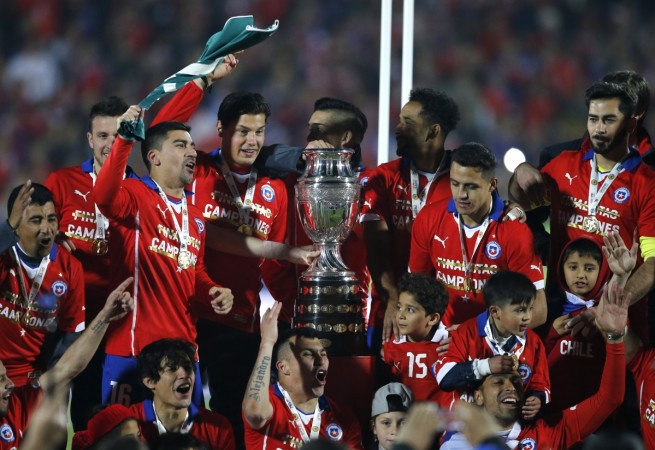 The venue of Copa America 2015 final, Estadio Nacional Julio Martínez Prádanos in Santiago, was filled with Chilean flags hours before Argentina vs Chile clash had started. And the scenes did not change as the home team wrote history by winning the title for the first time.
La Rojas defeated title-favourites Argentina in a dramatic penalty shoot-out to win their first ever Copa America title with the score reading 4-1.
The home crowd at Santiago went berserk after all the penalty takers of Chile found the back of the net, while Argentina were disappointing with Gonzalo Higuain and Éver Banega, who had both come in as substitutions, failed to make use of their chances.
Only, Lionel Messi was able to utilise his penalty in the Copa America final.
Earlier during the game, both the teams played a high pressing line, especially Chile. But, Argentina received a major blow in the 29th minute as Di Maria was replaced by Lavezzi due to an injury. The first half witnessed some breathless moments with Alexis Sanchez, Lionel Messi and Sergio Aguero showing their class in front of a packed stadium.
Argentina looked a better team in the first half and might have been unlucky to lead as they came close on a few occasions. But, Chile deserved credit for their determination as they gave it their all.
During the second half, none of the players could score that elusive goal, despite some chances.
Chile should consider themselves lucky as they could have conceded a goal in the dying minutes of the game. But Higuain failed to exploit a golden chance to score from a tight angle.
Neither team could break the deadlock as the game was taken to extra time, where the score still remained 0-0 and the game headed to penalties, which Chile won 4-1.
Chile has been one of the most consistent teams in the competition as well and it will not be wrong to state that they deserved to win their first Copa America title.
"I want to enjoy this moment with my players," Chile coach Jorge Sampaoli told reporters. "To have won the Copa América here in Chile, with the people euphoric... I want to say thank you to my players for allowing me to be part of that."
He felt that the penalties did justice and Chile's win was a fair result.
"In terms of attacking volume, Chile were superior to Argentina," he said. "We were able to dominate with the ball against a powerful team like Argentina. Chile played a great game and we had the opportunity to win it over the 90 minutes. I take my hat off to these players.
"The penalties did us justice in the end because that was the right result. Chile offered more in the game than Argentina."