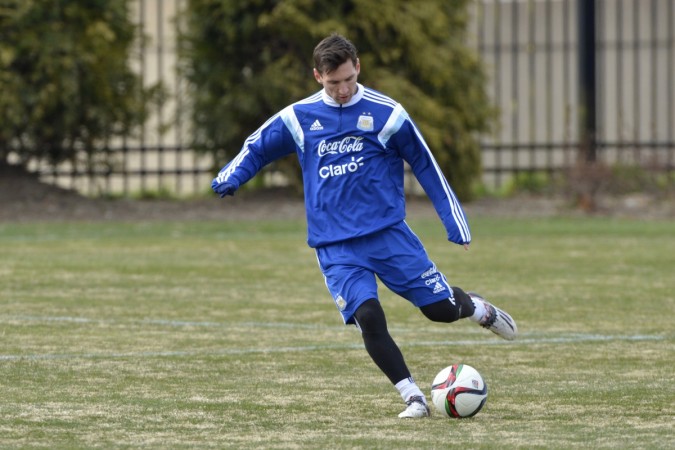 It is Lionel Messi's injury, which has been a major talking point as the Barcelona star could miss Argentina's friendly against Ecuador in New Jersey, USA.
But, the South American giants do have a number of other players such as Carlos Tevez and Gonzalo Higuain, who can find the back of the net without any problem.
Argentina did put up an impressive performance against El Salvador on Saturday winning the game 2-0 in Messi's absence, though they did not put up a strong team against El Salvador, as they gave chances to some fringe players.
Things might change when Argentina face Ecuador, as they might field a strong team, but probably without Messi.
Argentina coach Gerardo Martino has stated that if the player does not recover on time, he will not play.
"The third training day he was unable to wear the right boot. We all understand that the fans had hoped to see him play, but he was really unable," Martino told US media.
"Leo always tries to play. We'll wait for his recovery until the last minute before the kick-off, but we won't risk him. If he remains this way, he won't play on Tuesday."
It could be a huge disappointment for people who might travel miles to come and watch Messi play.
Still, without Messi, their opponent, Ecuador might find it difficult to beat Argentina. Ecuador did play a good game against Mexico, but was unlucky to lose, 1-0.
Gustavo Quinteros, Ecuador's manager, was impressed from whatever he saw during the game and wants the team to concentrate on World Cup qualifiers along with Copa America.
"We'll try to get to the Copa America in much better form, but we mainly focus on the World Cup qualifiers," he told Ole. "We have to organise ourselves defensively. We can correct this by working hard. In the Copa America we'll play matches similar to these two."
"We are looking for a different direction and we need a long time training, several matches, a long time altogether," he added. "I liked the way we played against Mexico, as in several moments of the game the team played as I want - pushing forward and having good possession."
Ecuador can take inspiration from their last two matches played against Argentina, where they drew both the games and if they can come up with a similar result, Quinteros would be the happier manager of the two.
Where to Watch Live
The international friendly is set to kick-start at 5am IST (7:30pm ET and 11:30pm GMT).
Viewers in Argentina can watch their national team live on TyC Sports Argentina, while people in Ecuador, El Salvador, Chile and Colombia can catch the game live on TyC Sports Internacional.
US viewers can watch it on beIN Sports 16 with live streaming option on beIN Sports Play.
There is no live coverage in India.