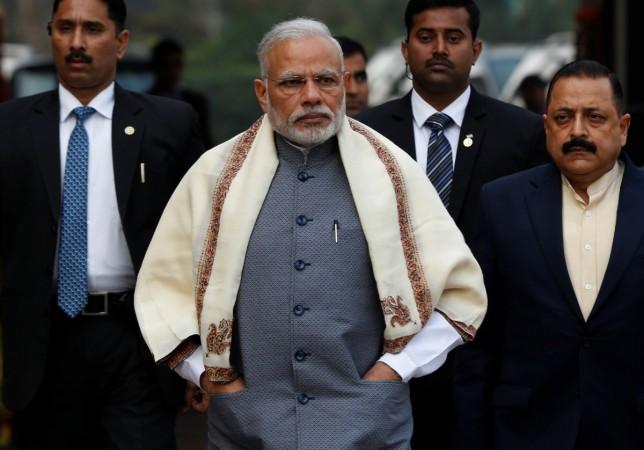 National Broadcasting Company (NBC) journalist Megyn Kelly faced heavy backlash from people on Friday, after she asked Indian Prime Minister Narendra Modi if he was on Twitter.
Modi is the third most followed world leader on Twitter, after Pope Francis and United States President Donald Trump.
It appeared that Kelly had not done her homework before she met the Indian PM in St. Petersburg in Russia, and had to face severe flak from netizens for being ignorant.
The journalist launched her new show with an interaction featuring Russian President Vladimir Putin and PM Modi at Konstantin Palace in St. Petersburg. However, Kelly soon found herself in midst of a kerfuffle on social media after she posed the absurd question to PM Modi while greeting him.
The incident occurred just before her formal TV interaction with the world leaders was about to begin. Kelly welcomed the leaders inside the Konstantin Palace and and shook hands with them.
While she was greeting PM Modi, the Prime Minister made a remark stating that he had seen her tweet where she was pictured with an umbrella.
"I saw your tweet... with umbrella," PM Modi said.
To which Kelly said, "Ohh really! did you? Are you on Twitter?" The PM seemed to be a little taken aback, but replied with a "yes," and chose to ignore her question with a casual laugh.
However, the twitterati did not take this lightly, and slammed the NBC reporter's question. Here's how some of them reacted:
'Are you on twitter?'
This must be the first time ever @narendramodi has been asked this. He humbly replied yes.

— shilpi tewari (@shilpitewari) June 2, 2017
Dear @megynkelly PM Modi is 3rd most followed leader on twitter .... Do your homwork first ....

— Amatya Rakshas (@SunilSoley) June 1, 2017