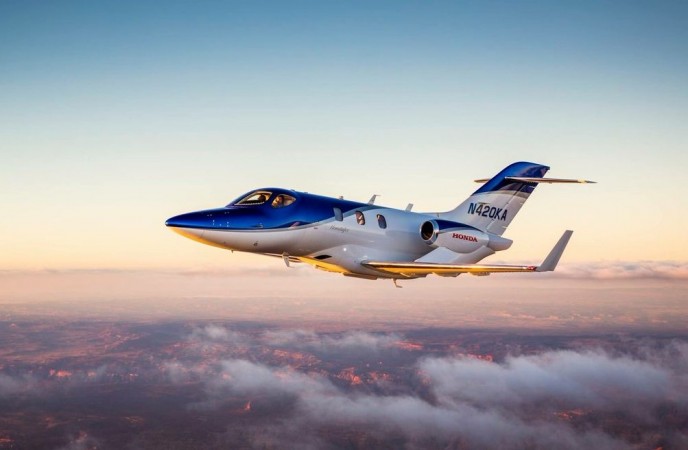 Japanese brand Honda needs no introduction in India. The four-wheeler section, Honda Cars India, and the two-wheeler arm, Honda Motorcycle and Scooter India, are prominent players in their respective segments. For those who wonder why Honda hasn't explored the aerial path of India, the company has just addressed what's on your mind.
Honda Aircraft Company, the wholly-owned subsidiary of American Honda Motor Company, has expanded sales of HondaJet to India. The company appointed Arrow Aircraft Sales and Charters Pvt. Ltd. as its authorized sales representative in New Delhi Friday. Honda Aircraft announced the India expansion plan at Begumpet Airport during Wings India 2018 programme, where HondaJet made its first-ever appearance in the country.
HondaJet is claimed to be the fastest, highest-flying, quietest, and most fuel-efficient jet in its category. The light business jet manufactured in Greensboro, North Carolina, in the United States comes with many technological innovations including the unique Over-The-Wing Engine Mount (OTWEM) configuration. This improves performance and fuel efficiency by reducing aerodynamic drag.
In addition, the OTWEM design also reduces cabin noise, minimizes ground-detected noise, and allows for the roomiest cabin and largest baggage capacity in its class. The HondaJet is equipped with a touchscreen 3-display Garmin G3000 glass cockpit system. The passenger area of HondaJet is 5.43 meter long and has an enclosed lavatory. The semi-round cabin is 3.69-meter long, 1.52-meter wide, and it has 1.46-meter height.
The aircraft comes with a maximum speed of 782kmph and cruise speed of 682kmph. The light business jet also has a range of 2,234 km.
Though HondaJet has been launched in India now, its network spans territories in North America, South America, Europe and Asia. The aircraft was the most delivered jet in its category in 2017.