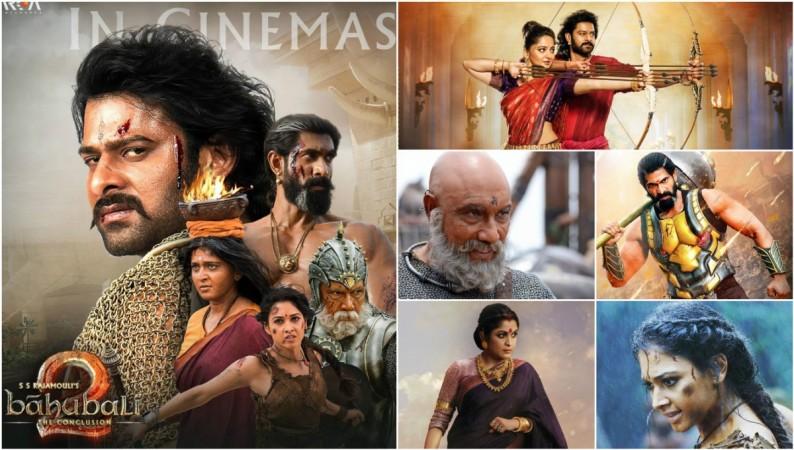 SS Rajamouli's Baahubali: The Conclusion is all set to become the biggest grosser at the Indian box office. But aren't you curious about the remuneration of the main actors of Baahubali franchise?
Check: List of records set by Baahubali 2
Baahubali has Prabhas, Rana Daggubati, Anushka Shetty, Ramya Krishna, Sathya Raj, Tamannaah and Naasar in main roles. And it is obvious that Prabhas would be topping the remuneration list for playing Amarendra Baahubali and Mahendra Baahubali. He deserves the amount for devoting four years for the franchise. Rumours suggest he was paid a whopping Rs 25 crore for being part of the sequel of Baahubali: The Beginning.
While Rana, who played Bhallala Deva, is believed to have received a remuneration of Rs 15 crore, both Anushka and Tamannaah are rumoured to have got Rs 5 crore each for getting into the skin of Devasena and Avanthika respectively. However, according to speculations, Ramya Krishnan and Sathya Raj, who were the two pillars of Baahubali 2 as Sivagami and Kattappa, are only being paid Rs 2.5 crore and Rs 2 crore, respectively.
Do you think Tamannaah deserves to be equally paid like Anushka and more than Ramya? Definitely NO. The star value of the milky white beauty might be high compared to other actors, but majority of the audience think that should not be the only criteria while casting actors. It has to be noted that Tamannaah appears only in the climax scene of the film, and the actress doesn't get much screen time in the sequel.
"If the news on her being paid a hefty price for appearing in less than five scenes, that too without more than two dialogues, it is definitely unethical. Ramya might not be having such a star value, but she and Anushka were the best in Baahubali 2," comments a social media user.
Meanwhile, many funny memes have also surfaced on social media trolling Tamannaah's "acting skills" in Baahubali 2. "It is so funny that even many junior artistes are given more space and dialogues than Tamannaah in Baahubali 2," reads one comment. "Finding Tamannaah from the war scenes was the most difficult task while watching Baahubali 2. She was not at all given any importance in the film," says another.
Meme: Actor Babu Antony, who just had a dialogue (sure) in the movie Twenty20 consoling Tamannaah who didn't have any dialogue in Baahubali 2.