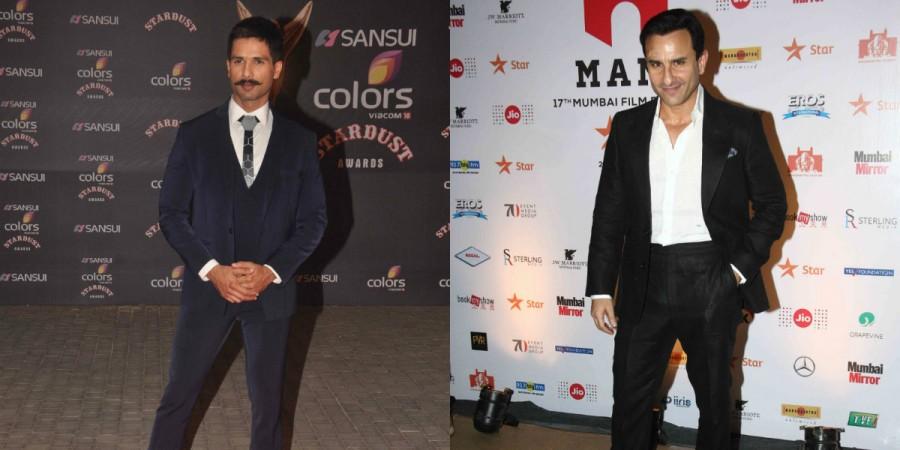 Shahid Kapoor had earlier said he is happy to be working with Saif Ali Khan in "Rangoon", but latest buzz suggests that everything is not well between the two actors. According to SpotboyE , Shahid and Saif do not talk with each other at all and the two look quite uncomfortable working together on the sets.
Shahid and Saif have a common link, Kareena Kapoor Khan. Shahid is Kareena's ex boyfriend, while Saif is her husband. The report also said that the "Haider" actor and Saif are never seen talking to each other, except exchanging cordial greetings when they cross each other's paths.
Some time ago, Shahid had expressed happiness to be sharing screen space with Saif, hinting that all their apparent differences were sorted out. "I am happy Saif is doing this film. We shot for one and half days together. He is very professional. I don't think anyone else could have played his role better than him. He is a great cast for the film. I would say the same for Kangana Ranaut. She has been giving some outstanding performances and great to have her in the film as well," The Indian Express had quoted Shahid as saying.
Directed by Vishal Bhardwaj, "Rangoon" is reportedly a love triangle set on the backdrop of the Second World War.
Meanwhile, Shahid and Kareena will be seen in the movie "Udta Punjab". Although it was earlier reported that the former couple will not have any scene together in the film, reports said that they have one scene together but the two shot for it separately. Shahid and his former girlfriend were reportedly not comfortable shooting together and thus, they had shot it at different times and the scenes were merged together while editing.