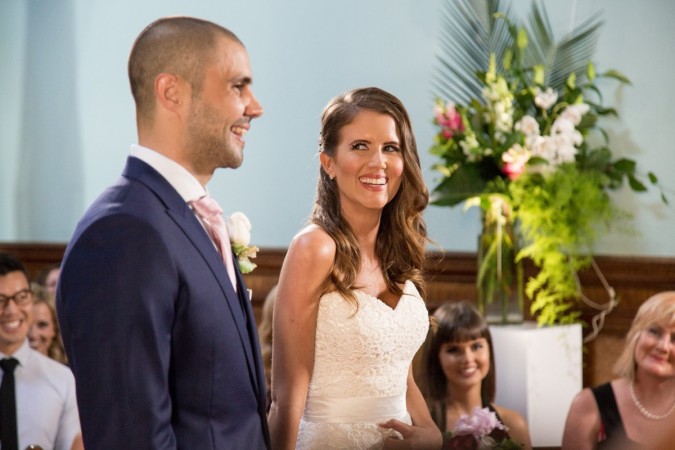 The finale episode of "Married at First Sight" Australia will no doubt reveal who stays together in the end. However, some cast members have teased the current status of relationship in social media posts.
[Spoiler Alert]
Erin, the 25-year-old self-proclaimed dating fiend recently uploaded a picture of herself wearing what looked like a commitment ring. This post led to a series of questions surrounding her relationship with Bryce and if the two are still together. One fan even asked if it was a wedding band.
In a playful response, Erin uploaded a picture of herself wearing finger bands on both her hands. The reality star captioned the picture: "Married At First Sight's Erin might have accidentally given away the fate of her marriage!! #theres9bitches #demweddingrings #busybeingpregnant #datherniathough. [sic]"
Erin and Bryce, the fan-favourite couple on Channel 9's "Married at First Sight" Australia Season 2, seem to share a lot of chemistry. They even overcame a big obstacle in the previous episode when Bryce, 31, revealed he wants to be a father and later decided to wait for Erin, who made it clear that she doesn't want kids.
The Daily Mail quoted a source close to Erin as saying that the two are falling in love and are working on "interstate commitments."
Meanwhile, Christie, who is married to Mark on "Married at First Sight" Season 2, also provided a hint about her relationship status. The TV personality uploaded a picture of protein buns and indicated that they have been baked for a special someone. Could this mean she and Mark will be together when Season 2 of the TV show ends?
Christie certainly seems to have feelings for Mark. After a rough start to their relationship, she said in the previous episode she has perhaps developed feelings for Mark. If the two continue, something must be done about their long-distance relationship.