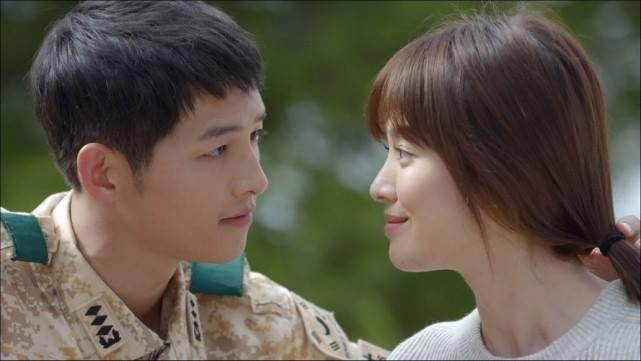 Rumours of a romance continue to haunt "Descendants of the Sun" co-stars Song Joong Ki and Song Hye Kyo, who played Yoo Si Jin and Kang Mo Yeon respectively in the Korean military drama. The actors have refused the existence of a romantic relationship, but according to reports, their statements praising each other could hold a deeper meaning.
For instance, on more than one occasion, Song Hye Kyo has said her "Descendants of the Sun" co-star has been an amazing person to work with. "I was looking forward to meeting him since so many people told me good things about him, and it turned out that he was an even better person than I'd thought," she said during a fan meet in China. "He's very sincere and thoughtful when filming. I think he's really cool.".
Song Joong Ki, in return, told Couch Kimchi that in addition to being a beautiful person, Song Hye Kyo has a heart of gold as well. "I felt really happy to be able to film together with Korea's most beautiful actress. Everyone thinks it's because of her outward appearance that she became famous, but after working together, I realized her inner heart and personality are also good," the actor said.
On being questioned about his romantic life, the actor told Soompi that he has no plans to go public even if he was involved with anyone, as he wanted to "preserve the emotion for the person that I like."
In other "Descendants of the Sun" news, recent reports suggest that a sequel is in the works and it will feature a wedding between Song Joong Ki and Song Hye Kyo's characters. The sequel is expected to be aired sometime in early 2017.