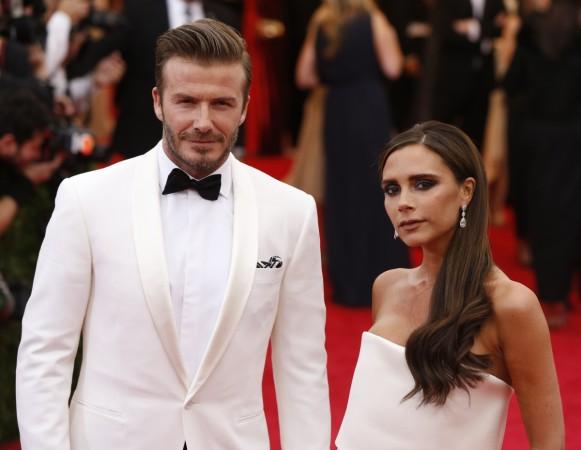 All is not well between David and Victoria Beckham? Rumour mills are running wild speculating that the power couple is headed for a divorce. However, the former footballer and the fashion designer shut down divorce rumours assuring fans that they are still very much together.
The couple was forced to clear the air after several news outlets began speculating that they are parting ways. The representatives of the couple expressed the couple's thoughts on the ongoing rumour.
Jo Milloy, the Spice Girl-turned-designer Victoria's spokesman, ridiculed the news as "absolute nonsense" and the former England football captain's spokesman, Simon Oliveira, called the claims "embarrassing and laughable," Daily Mail noted.
They also told The Sun that there was "no statement due, no divorce, and a lot of Chinese whispers and fake social media news". "This is all very bizarre and an embarrassing waste of time," they added.
Victoria hosed down the rumours further by sharing an adorable post on Instagram. The former Spice Girls singer posted a picture of herself with daughter Harper Seven and informed David that the mother-daughter duo was missing and love him.
She later shared a picture of her family sans David. Victoria is seen happy with her children, Romeo, 15, Cruz, 13, Harper, six, and her mum and dad Jackie and Tony Adams. David was in China attending a football summit hence the absence in the happy picture.
Meanwhile, David also returned to social media to promote his grooming brand House 99. He shared a hot black and white photo of himself.
Around the time of clarification, the couple took to their individual Instagram account to announce that they are auctioning their wedding outfits worn at the royal wedding up for a charity.
Dubbed "Posh and Becks" by the media, David and Victoria met at a charity football match at Old Trafford, Manchester in 1997. After a year, the couple announced their engagement. In 1998, Victoria announced she was pregnant with Brooklyn. On July 4, 1999, four months after Brooklyn's was born, the couple got married. They have been together for nearly 20 years now.