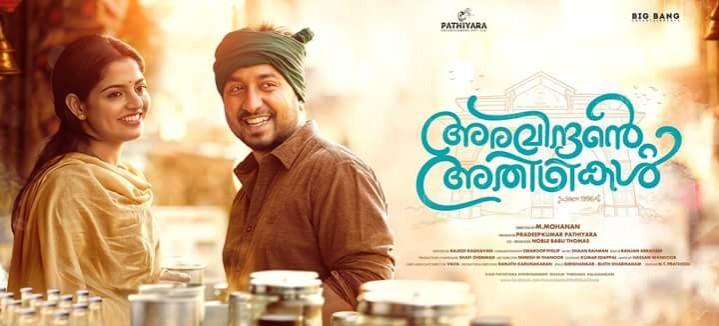 After a gap of three years, director M Mohanan of Katha Parayumpol fame has returned with Aravindante Athidhikal. The movie has Vineeth and Sreenivasan in the leads, while Aju Varghese, Nikhila Vimal, Urvashi, Premkumar, Baiju and others are in the cast.
Shaan Rahman has composed the music, Swaroop Philip has handled the cinematography and Ranjan Abraham has edited the film.
Hype:
Although the movie does not have A-list stars in the cast, it has managed to garner positive vibes around it. Thanks to the good teaser, it has spiked the viewers' interest around the flick. Looking at the promo, it appears like a film targeted at the family audience.
Aravindante Athidhikal Story:
Madhavan (Vineeth) finds an abandoned boy at a Mookambika Devi temple. Later, the boy grows on to become a happy and cheerful man, Aravindan. Set in the premises of Kolluru Mookambika temple in Karnataka, the story deals with the customers who visit the lodge run by them.
The story begins on the day of Navaratri and ends on Navaratri years later. The father and foster son's camaraderie is the interesting part of the story, which will take a twist with the arrival of a customer to their lodge.
Audience Response:
The movie has been hailed for his content. It has a simple, yet absorbing storyline. The performances of Vineeth and Srinivasan are impressive in their roles. Nikhila Vimal, who is returning after a while, is perfect in her role of a dancer. Urvashi's act brings smile on the viewers' face and Santhi Krishna, Prem Kumar and others have played their parts well.
Technically, cinematography is brilliant and the way he has captured Kodachadri Hills on his camera needs a special mention. And special mention for the music. Overall, it has turned out to be a good family entertainer.
Khaja_OI: It is a beautiful film with touching story. Enjoyed the performance of Vineeth and Srinivasan. Urvashi brings laughter... cinematography is top notch...Kodachadri hills have been well captured. Overall, I give 3.5/5 #AravindanteAthidhikal
Razhmi: It is a time-pass entertainer....tells the story of a father and son....#AravindanteAthidhikal I give 60 out of 100 for this film :)
Average Ratings Given by Audience: 3.5