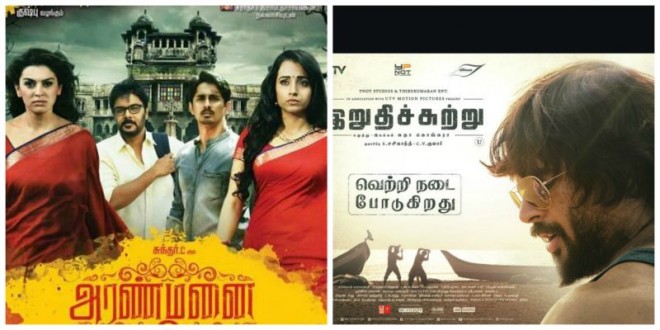 Sundar C's "Aranmanai 2" and Sudha Kongara Prasad's "Irudhi Suttru" have opened to positive response on Friday, 29 January, and have also done fantastic business on its first day in Tamil Nadu.
Leading trade tracker Sreedhar Pillai has confirmed the news and tweeted, "Good News for Kollywood . Today's releases #Aranmanai2 & #IrudhiSuttru taken good opening. Day 1 of these too better than Day 1 Pongal rel."
He also added that "Aranmanai 2" has raked in Rs 5.22 crore on the opening day.
The films have made better collection than the Pongal releases like "Rajini Murugan", "Kathakali", "Tharai Thappattai" and "Gethu". Trade tracker Sathish announced on Twitter that "Aranmanai" has got the biggest opening in 2016 as he posts, "#Aranmanai2 with 355+ Screens & houseful shows becomes the highest grosser on opening day in 2016."
Traders predict that "Aranmanai 2" and "Irudhi Suttru" are going to do great business in the first weekend. The response for advance booking in Chennai has been good and hence, it is safe to say that the latest releases will rule the box office this weekend.
While "Aranmanai 2" was released in above 355 screens, "Irudhi Suttru" had seen the light of the day in the above 160 screens in Tamil Nadu. Both the films were released on the same day and performed well without affecting each other's business, which is a good sign for the industry.
"Aranmanai 2" is a horror-comedy movie starring Siddharth, Trisha Krishnan, Hansika Motwani and Sundar C in the lead roles. The comedy and horror elements with some fine performance from the lead actors have become the highlights of the flick.
"Irudhi Suttru" is a sports drama starring Madhavan and Ritika Singh. The acting of the lead actors along with a strong subject have attracted the viewers.