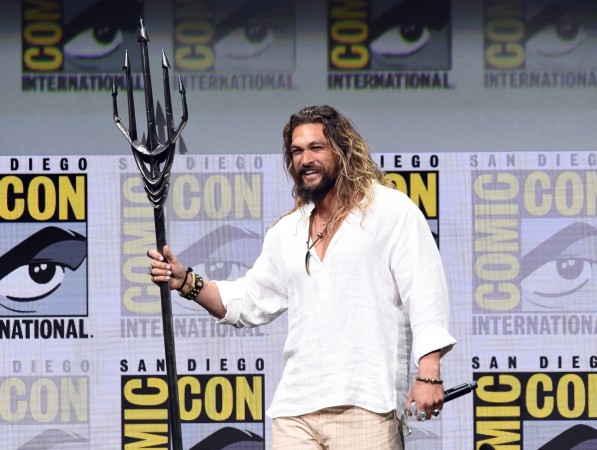 The year 2018 is going to be ruled by superhero movies. From Black Panther releasing next month to Avengers: Infinity War in May and Deadpool 2 in June, the year is a blockbuster in making for comic-book movie fans.
Though we have just begun 2018, the year's last big movie – Jason Momoa's Aquaman – is already making headlines and James Wan is to be credited for it. The DCEU movie will be under immense pressure to perform at the box office following the cold response Justice League received.
Bearing this in mind, it looks like director Wan is already starting to create a buzz among fans.
Also read: Aquaman: Jason Momoa teases plot, assures fans his role is 'different' from Justice League
Wan took to Twitter to share an image from Aquaman and wished fans on the occasion of New Year. The photo shared shows a close-up of the Atlantean armour emblazoned with a squid image. But there is more to the image than just the squid.
The armour in the photo contains a hook which is a huge tease for Aquaman fans. According to Comicbook.com, the Aquaman comics feature a well-known storyline wherein the villain Charybdis feeds Aquaman's hand to piranha. The superhero's missing hand was replaced with a hook.
This caused frenzy online with fans questioning if Wan teased this plotline. Replying to one of the fans' tweets, the director shot down the speculations. While the photo might not intend on teasing the hook, it doesn't mean it is not a part of the movie.
While the plot is still under the sheets, Momoa recently spoke to Daily Telegraph to share that he loves that Aquaman is half-and-half.
As reported by Daily Mail, the actor said, "I love the fact that he is half-and-half [half fish, half man]. I can really relate, being born in Hawaii and raised in Iowa ... [and him] coming from this Atlantis-Hawaii and not really feeling accepted in either place."
The actor said children from broken homes would connect with Aquaman the most. "I think there's a lot of kids out there that feel that from broken homes so it's cool to see him deal with that," he said.
Aquaman is slated to release on December 21.