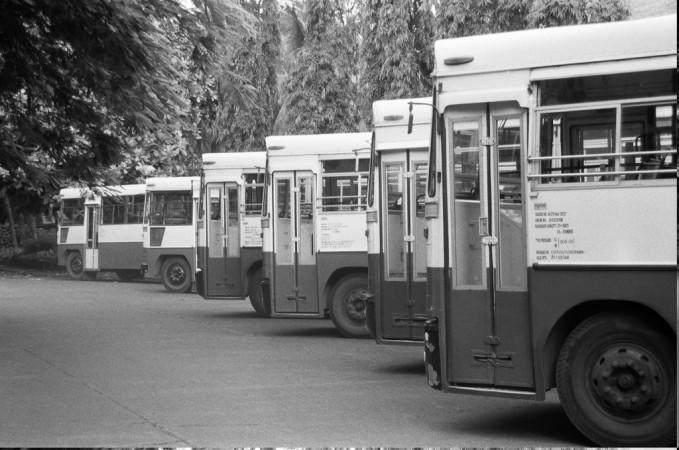 State-owned buses remained off the roads in Telangana and Andhra Pradesh for a second consecutive day on Thursday as over one lakh employees continued their indefinite strike, demanding pay revision.
Ignoring the threat by (APSRTC) to use Essential Services Maintenance Act (ESMA), 120,000 employees stayed away from duty.
With nearly 20,000 buses confined to depots, the public road transport service remained pralaysed in both the states, affecting 1.5 crore people.
The attempts by APSRTC management to use the services of contract workers to operate buses met with stiff resistance by the striking employees, leading to tension in some places.
The employees' unions have called for rallies and sit-ins to protest what they call indifferent attitude of the management towards their demand for 43 percent hike in salaries.
Tension prevailed in Hanamkonda town of Warangal district when police stopped employees from taking out a rally. There was a scuffle between policemen and striking workers.
Prohibitory orders have been imposed at all bus stations and depots to prevent protests by the employees.
The management has warned that it will invoke ESMA if the employees failed to return to duties on Thursday
In Andhra Pradesh, a total of 10,576 were off the roads while in Telangana 9,370 buses were confined to depots.
Students, office goers, holidayers, people attending marriages and pilgrims in Tirupati were hit hard by the strike.
The strike is likely to hit hard the students attending EAMCET in Andhra Pradesh on Friday. More than 2.5 lakh students are to appear for the entrance test for admissions into medical and engineering colleges.
The employees are demanding pay revision at par with the other government employees in the two states.
The APSRTC management has turned down the demand citing poor financial condition of the organisation. It has offered 27 percent hike.
APSRTC managing director N. Sambasiva Rao said the hike will put a burden of Rs.2,800 crore on the organisation, which suffered a loss of Rs.950 crore during 2014-15.