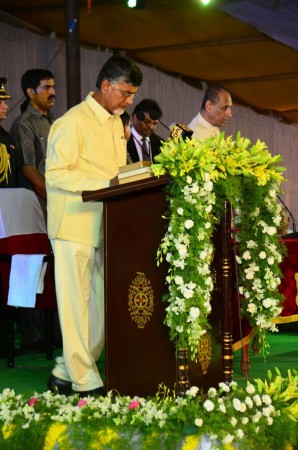 The new capital city of Andhra Pradesh will come up around Vijayawada, the central location to all regions of the state, Chief Minister N Chandrababu Naidu announced in the State Assembly on Thursday, 4 September, amid din created by members of YSRCP.
Vijayawada is considered a cultural capital of Andhra Pradesh and is a hub for several educational institutions too.
Development will be decentralized to all districts in the state, Naidu added and explained that air, rail and road connectivity would be provided to all regions to make the state a logistics hub.
YSRCP MLAs insisted for a debate and voting on the subject before Naidu's announcement in the House.
In his 20-page statement, Naidu also said that a sub-committee of ministers will be constituted to decide policies for acquisition of required land for the new capital city. Naidu-led ruling TDP has also proposed 3 mega cities and 14 smart cities for the development of the state.
The Union government-appointed Sivaramakrishnan Committee, which was against building the capital near Vijayawada, also tabled its report in the State Assembly on Thursday. The committee had said that the economic development in the area would have environmental consequences if the state's capital is established between Vijayawada and Guntur.
Soon after Naidu's announcement, Sivaramakrishnan stated that it is the prerogative of the State government and he has nothing to comment on the matter.
Following were the key factors in Naidu's statement:
Report of Sivaramakrishnan has supported people's opinion.
Location for AP's new capital near Vijayawada has been selected keeping in view the state's progress and people's welfare.
A food park for each district to be established.
Three mega cities and 14 smart cities to be developed.
The government will celebrate Independence Day in one district each year on rotation-basis here onwards.
Vijaywada and Tirupati airports to be expanded into international ones.
Impetus will be given to drip and drizzle irrigation in drought-prone Anantapur district.
Srikakulam is to be developed into a smart city and to be provided with an airport.
East Godavari district is to get petroleum corridor, coir industry complex and Telugu university.
Vijayanagaram district is to get a greenfield airport and an industrial town.