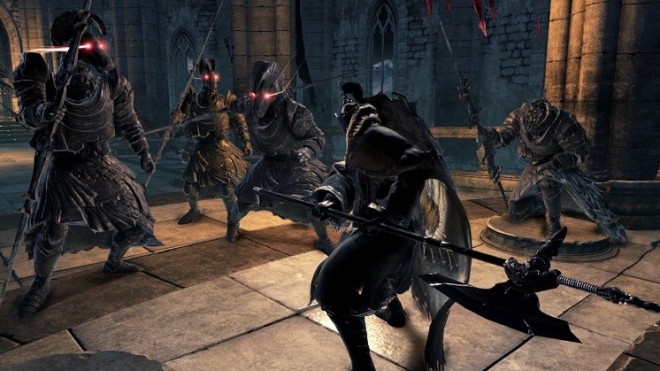 Last month saw the release of some of the biggest games like Titanfall, Dark Souls 2 and InFamous: Second Son. The month of April will bring more new titles for different consoles. Video games like Goat Simulator, The Elder Scrolls Online, Lego The Hobbit and others are scheduled for release.
The month will also see DLC releases for Batman: Arkham Origins and Call of Duty: Ghosts.
Below is a list of games that are scheduled for release in April:
April 1 Releases
Batman: Arkham Origins Blackgate Deluxe Edition - The Deluxe Edition of the popular PlayStation Vita's 2.5D video game that was released in 25 October 2013. This edition will have new maps, enemy encounters, bat suits, better visuals and increased difficulty levels. This game will be out on Wii U, PlayStation Network, Xbox Live Arcade and PC.
Goat Simulator - Here a player can control a goat where they are free to go wreck the environment and explore any place. The game shares a light hearted fun and has intentionally left the bugs and glitches in the game. It will be available on PC via Steam.
Mercenary Kings - This is a 2D action game where players will take part in the battle to save your island hosting a secret Laboratory against a brute force called CLAW and it will be rolling out for Mac, PC and PlayStation 4.
MLB 14: The Show - This game developed by Sony Computer Entertainment, the ninth in the franchise that is related to Baseball. The game will roll out initially to PlayStation 3 and PlayStation Vita, later on 6 May, the PlayStation 4 edition will roll out.
Ragnarok Odyssey - This real time action RPG, is an updated version of Ragnarok Odyssey will be released for PlayStation 3 and PlayStation Vita.
April 3 Release
Call of Duty: Ghosts - Devastation DLC - Popular FPS title, Call of Duty: Ghosts will get its second multiplayer expansion, Devastation with four new maps, and also features four-player co-op story mode, Extinction. It also features carious monsters like the Predator, Seeder and Kraken. It will also bring Ripper, which can perform both roles as a medium to short-range capability gun and a medium to long-range rifle to players.
April 4 Release
The Elder Scrolls Online - One of the eagerly awaited games this month is The Elder Scrolls Online as developer, Zenimax Online Studios and publisher, Bethesda Softworks will release the MMORPG game. The gameplay will have four classes, namely Dragon Knight, Templar, Sorcerer and Nightblade. The game is set in Tamriel and players will have access to most of the continent and will roll out for PC and Mac.
April 8 Releases
Lego The Hobbit - Publisher Warner Bros. IE's newest action-adventure title that is based on J R R Tolkien's famous fictional characters - The Hobbits. However, the title will be concentrating on first two Hobbit films 'An Unexpected Journey' and 'The Desolation of Smaug.' This game will be released on PC, Wii U, Nintendo 3DS, PlayStation Vita, PlayStation 3, PlayStation 4, Xbox 360 and Xbox One.
Daylight - This survival horror title revolves around a woman, Sarah who does not remember why she is in a hospital and finds the secrets in the hospital with the help of certain tools. Players will control Sarah and help her escape the haunted house. This will roll out for PC and PlayStation 4.
Kinect Sports Rivals - This Xbox One exclusive game that makes use of the Kinect in the console features bowling, jet ski racing, rock climbing, soccer, target shooting, and tennis.
Titanfall (Xbox 360) - After its release on PC and Xbox One that was met with positive acclaim from both critics and friends, The Xbox 360 version of the FPS title from developers Respawn Entertainment will roll out on 8 April.
Don Bradman Cricket 14 - This cricket video game from developer Big Ant Studios was previously supposed to release on 4 April, but was delayed for 8 April. It will feature a full career mode and a built-in player creator, innovative controls, multiplayer matches, fielding system, contain a day/night cycle, dynamic weather, and pitch degradation. It will be released on PC, PlayStation 3 and Xbox 360.
April 11 Release
Disney Magical World - The life simulation video game will be rolling out for Nintendo 3DS. This game features a variety of Disney characters in their fantasy worlds. Players will get customizable characters, outfits and accessories. Players will have to help the characters in solving problems or finding out the items that are missing.
April 14 Release
Final Fantasy 14: A Realm Reborn - Square Enix's MMORPG will bring the fictional land of Eorzea where the player has to deal with the possible invasion of Garlean Empire, with the story taking place five years after the events of the original and will be out for PlayStation 4.
April 15 Releases
2014 FIFA World Cup Brazil - EA Sports' video game for the upcoming World Cup in Brazil will bring in improvements to FIFA 14 in aspects like dribbling, passing and first-touch mechanics. It will feature Road to the FIFA World Cup, Road to Rio de Janeiro and will also have an improved fan and team celebrations. This will be available for PlayStation 3 and Xbox 360.
Moebius: Empire Rising - This is a graphic adventure game that will be available on PC, Linux, Mac, iOS and Android consoles. This is an investigative video game where the player hunts for artifacts destroyed.
Conception 2: Children of the Seven Stars - This RPG video game for Nintendo 3DS and PlayStation Vita is a sequel to the earlier Japanese title.
War of the Vikings - Developer Fatshark, action game will drag players into the age of Vikings and will be released only for PC.
April 18 Release
Tropico 5 - This is a construction management simulation video game that concentrates on building a city and features trading, research, renovation, exploration, cooperative or competitive multiplayer for four players. The game will be available for PC, Linux, Mac, Xbox 360 and PlayStation 4.
April 22 Releases
Batman: Arkham Origins - Cold, Cold Heart DLC - Players of the popular game Batman Arkham Origin will get a new DLC in the form of Cold, Cold Heart for PC, Xbox 360 and PlayStation 3. The new DLC will trace the origin of Mr Freeze and his encounters with Batman. The DLC will also bring new Batman Extreme Environment (XE) suit, thermal gloves and thermocharged batrangs.
Demon Gaze - This PlayStation 4 exclusive allows players to control Oz who explores dungeons in search of demons and hangs out at inns building relationship with NPCs.
April 25 Releases
Dark Souls 2 (PC) - This is the PC release for the highly rated open world game where players fight various monsters to get their souls back.
NES Remix 2 - This compilation of classic Nintendo games will be released for Wii U on 25 April.
April 29 Releases
The Amazing Spider-Man 2 - This game will be based on the film 'The Amazing Spider-Man 2 ' that focuses on Spider-Man's search for Uncle Ben's killer. It will feature villains like Kraven the Hunter, Electro and Kingpin. It will have a new system called Hero or Menace and unique districts. It will roll out for PC, Nintendo 3DS, Wii U, PlayStation 3, PlayStation 4, Xbox 360 and Xbox One.
JoJo's Bizarre Adventure: All-Star Battle - This is PlayStation 3 exclusive fighting game based on Hirohiko Araki's long-running manga series JoJo's Bizarre Adventure,
April 30 Releases
Child of Light - Developer, Ubisoft Montreal and publisher Ubisoft will be rolling out this platform RPG for PC, Wii U, PlayStation 3, PlayStation 4, Xbox 360 and Xbox One. It allows players to contol Aurora, who was stolen from her home and her quest to come back from captivity.