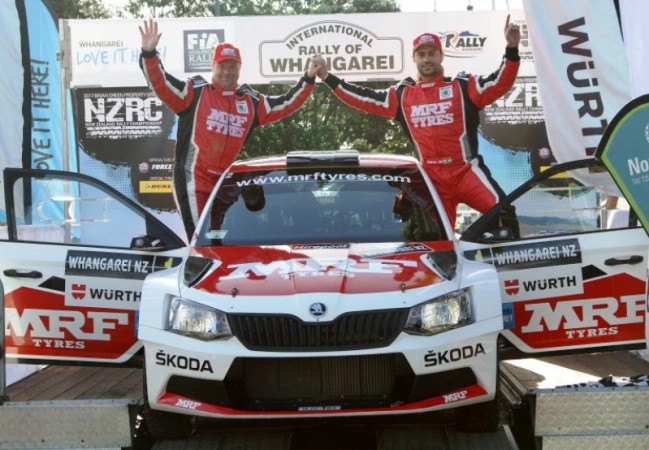 Reigning FIA Asia-Pacific Rally Championship (APRC) champion and ace Indian rally driver Gaurav Gill opened the season on a high note. Team MRF Skoda driver, with his new co-driver Stephane Prevot, has won Rally of Whangarei, New Zealand– held from April 28-30– with a notable 2:02 seconds lead in a Fabia R5 car.
It was double podium for Team MRF Skoda as Ole Christian Veiby and co-driver Stig Rune Skjarmoen from Norway finished second. Gill was fastest on the opening short Super Stage. During the first leg, the Norwegian rookie Veiby took the lead. On the third and last stage, Veiby faced a technical glitch after a roadside repair drew a time penalty and dropped to second place behind teammate Gill.
"This has been a good rally. Very difficult for me and while OC (Ole Christian) has been driving very well the incident today pushed him back, after we had some issues yesterday that pushed us back. So, I guess that is part and parcel of the sport. Our other most important thing is to have both cars sitting one and two for the MRF Skoda team," said Gill.
Finland's Jari Ketomaa and co-driver Ville Mannisenmaki retired after the opening stage on Sunday after their Mitsubishi Mirage's engine conked out which in turn helped secure a place for New Zealand brother-sister duo of Matt and Nicole Summerfield (Subaru STI) in the podium.
The next round of six for the 2017 APRC will take place in Australia's capital city Canberra from May 26 to 28.
2017 International Rally of Whangarei – Overall top 10
1. Gaurav Gill/Stephane Prevot, Skoda Fabia R5, 2:35:06.8
2. Ole Christian Veiby/Stig Rune Skjarmoen, Skoda Fabia R5, +2:02.8
3. Matt Summerfield/Nicole Summerfield, Subaru Impreza STi, +6:53.5
4. Dylan Turner/Malcolm Read, Audi S1 AP4, +7:59.9
5. Darren Galbraith/Rocky Hudson, Mitsubishi Lancer EVO 8, +8:59.9
6. Rhys Gardner/Phil Hall, Mazda 2 AP4 +, +12:41.4
7. Graham Featherstone/Dave Devonport, Mitsubishi Lancer EVO 7, +13:55.6
8. Job Quantock/Matt Hayward, Mitsubishi Lancer EVO 7, +16:52.6
9. Dave Strong/Bruce McKenzie, Ford Fiesta S2000, +17:39.9
10. Robert Blomberg/Lars Andersson, Mitsubishi Mirage AP4, +17:45.5