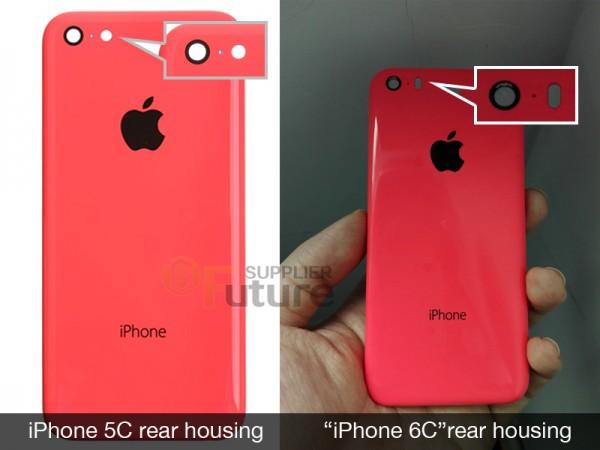 Those who are maintaining a distance from the newly-released iPhone 6 and 6 Plus due to their price tags, will be happy to know that the company is once again trying to make the Apple phone affordable as it did with its iPhone 5C, after the likes of iPhone 5 and 5S. It's now on the verge of introducing an iPhone 6C, which is a 4-incher.
While we already knew that a smartphone from Apple is on the way, but there wasn't any way to be sure that the company was indeed serious about the project.
However, images that emerged on the internet, courtesy Future Supplier, shows the rear housing of a purported iPhone 6C device. What's more, the device's camera hole is oval in shape this time around.
Aside the 4-inch avatar and an oval camera hole, the other big difference noticeable in the leaked images are the two loud speaker holes at the bottom of the device. In comparison to that, the iPhone 5C has a single hole. But going by experience, Apple isn't known for offering stereo-quality speakers, and the new speaker holes are more of a visible change than anything.
That being said, similar to the 5C, the rumoured iPhone 6C is expected to sport a plastic chassis, at least that's what the images have shown. But if indeed Apple is planning on introducing plastic bodies for the smaller iPhone, it's at least expected to let go of certain downer elements from the 5C.
Previously, following the release of iPhone 6 and iPhone 6 Plus, speculations were rife about how Apple has been planning on iPhone 6S and 6C variants. Reports have even indicated that instead of continuing with the same name, Apple's next smartphone would be an iPhone 7. And, the way Apple has been pushing out its iPhones to date, this could be credited as the most credible information at the moment.
While it's a sort of déjà vu for the Cupertino giant, is Apple making the same mistakes it committed with the release of the 5C? Well, from a flipside, the iPhone 5C may not have been that "bad" a mistake as some people usually accredit it with. In fact, the handset could be seen as Apple's entry point at introducing a so-called feeder model.
Nonetheless, the iPhone 6C will be somewhat similar (internally) to what you have been getting from the iPhone 6 and 6 Plus, although the plastic build might turn off a few potential buyers. But since we are dealing with Apple here, expect it to grind some kind of profit from the device, but expectations are that it should do better than the 5C.