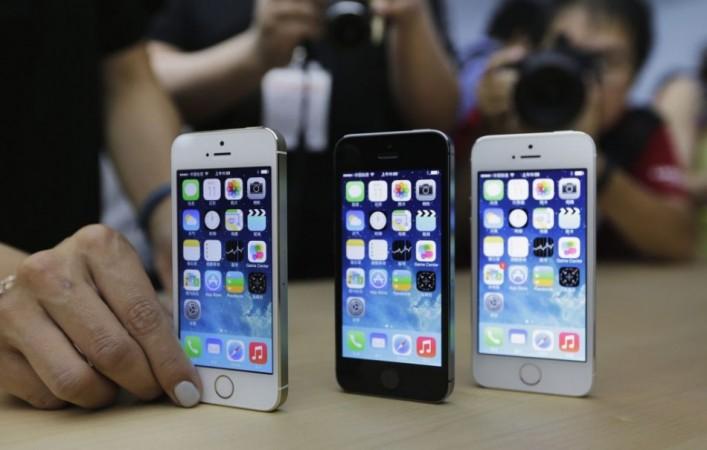 Apple Inc's new smartphones - iPhone 5s and iPhone 5c - made records by selling nine million units in just three days, dispelling earlier reports that the pre-orders for the new smartphones were "disappointing", casting doubts on the business of the devices.
The Cupertino giant announced on Monday that it sold nine million new iPhone 5s and iPhone 5c models in the launch weekend, breaking the record held by iPhone 5 at five million units in three days.
It should be noted that the figures given out by Apple are that of iPhone 5S and iPhone 5c put together.
"This is our best iPhone launch yet - more than nine million new iPhones sold - a new record for first weekend sales," Apple's CEO Tim Cook said in a press statement. "The demand for the new iPhones has been incredible, and while we've sold out of our initial supply of iPhone 5s, stores continue to receive new iPhone shipments regularly. We appreciate everyone's patience and are working hard to build enough new iPhones for everyone."
The company also claimed that more than 200 million iOS devices are now running the redesigned iOS 7, making it the fastest software upgrade in history.
Critics had earlier come down heavily on Apple's new smartphones, arguing that they lack innovation and were over-priced.
Apple's two new devices now represent about 1.36 percent of the total numbers of all iPhones activated in the US . iPhone 5 outsold the cheaper iPhone 5c by nearly 3.4 times in the country, according to a report by Localytics, a leading analytics and marketing platform for mobile and web apps.
"From the data we are seeing, 1.05% of all iPhones in the United States are now iPhone 5s and just 0.31% are iPhone 5c. That means that the iPhone 5s outshines the 5c by a factor of 3.4x, a clear indicator that the early adopters are favoring the high-end 5s compared to 5c," said a report by Localytics.
iPhone 5S is priced $199 (₹12,700) for 16GB model, $299 (₹19,000) for 32GB and $399 (₹25,500) for 64GB with a two-year contract. It is available in three colours - gray, silver and gold. The unlocked 16GB model will be priced $649 (₹41,600), and the 64GB model for $849 (₹54,500).
The 16GB version of iPhone 5C costs $99 (₹6,300) and the 32GB model at $199 (₹12,700) with contract. The device will come in five colours - blue, green, pink, yellow and white. Its price will be higher without contract with the 16GB variant expected to cost ₹35,200 ($549) and ₹41,600 ($649) for 32GB.
The devices, which were released in select markets on 20 September, is expected to be made available in more than 100 countries, including India by the end of the year, but reports are doing the rounds that iPhone 5s is available in Indian grey market for ₹1 lakh.
VIDEO: Apple Unveils Two New iPhones