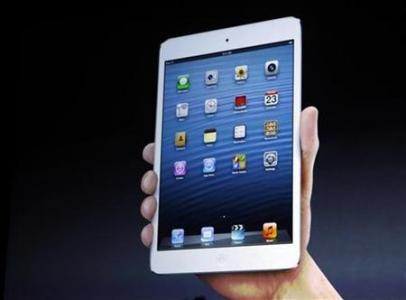 Apple Inc has unveiled its much-talked-about iPad Mini featuring 7.9-inch Multi-Touch display but it is likely to fail in India, as it may not be able to penetrate into the tablet market in the country for more reason than one.
PRICE FACTOR:
One of the factors why Apple's iPad mini may fail in India is its high price. A survey by Baird Equity Research, based on the response from customers, found out that the ideal starting price would fall in the $249-$299 range but Apple's new iPad mini is way beyond that.
Starting at $329 for the Wi-Fi models of and $459 for Wi-Fi + Cellular models, iPad mini seems to be too expensive comparing to the prices of tablets available in the market, and certainly costlier than expected.
Apple has not announced the pricing of iPad mini in India but it will be certainly well above the prices of tablets available in India.
Here are the tablets that could dampen iPad mini sales in India:
Kindle Fire: The price of Amazon's Kindle Fire, which has features like 7″ inch (1024×600 pixels) multi-touch display with IPS Panel, 1GHz Dual Core Processor, 512MB RAM, 8GB Internal Memory and Wi-Fi Connectivity, starts from Rs. 10,000.
Google Nexus 7: Priced at Rs.16000, it is powered by 1.5 GHz quad core processor and runs on Android 4.1 Jelly Bean operating system. It has a 1.2 MP front facing camera with 720p resolution video capability and available in only Wi-Fi capability.
BlackBerry PlayBook: The price of PlayBook price starts from Rs.12,110. It sports a 7-inch LCD capacitive touchscreen and runs on QNX operating system. It is powered by a Cortex A9 dual core processor and has 1 GB RAM.
Samsung Galaxy Tab 2: Samsung tablet has a 7-inch, touchscreen, 1024 x 600 pixel display and powered by a dual core 1 GHz ARM Cortex. It runs on Android 4.0 ICS OS. The price of Samsung Galaxy Tab 2 starts from Rs.18000.
iBerry Auxus AX02: The iBerry Auxus AX02 comes with a 7-inch 800 x 480 pixel capacitive touchscreen and powered by a Cortex A8 architecture based 1GHz processo. It also has dual core Mali graphics processor and features 1 GB of DDR2 RAM. The starting price of the tablet is Rs. 8000.
UbiSlate 7+: Aakash 2 tablet UbiSlate 7+ is priced at Rs.3,499 while that of UbiSlate 7C costs Rs.4,299. It is powered by Cortex A8 - 800 Mhz processor and has 256MB RAM. It features Android 2.3 operating system.
TIME FACTOR:
The Cupertino giant has not announced the launch of its iPad mini in India but sources said that it may come to India only by next year. This could affect its sales in the country as the hype around it will die down eventually besides giving more time to its rivals like Kindle Fire, Nexus 7 etc to strengthen their grip in the tablet market.