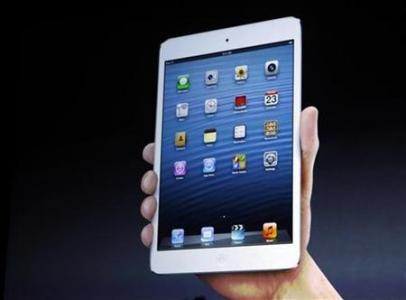 Apple Inc released its much-anticipated iPad mini amid great fanfare on Tuesday but what could come as a mood dampener for gadget lovers is its price.
A survey by Baird Equity Research, based on the response from customers, found out that the ideal starting price would fall in the $249-$299 range but Apple's new iPad mini is way beyond that.
Starting at $329 for the Wi-Fi models of and $459 for Wi-Fi + Cellular models, iPad mini seems to be too expensive comparing to the prices of tablets available in the market, and certainly costlier than expected.
The Wi-Fi models of iPad mini will be available in black & slate or white & silver, and here is the pricing of all the variants:- 16GB model is priced at $329, 32GB model at $429 and 64GB model at $529.
iPad mini with Wi-Fi + Cellular pricing:- 16GB model to be priced at $459, 32GB model at $559 and 64GB model at $659.
iPad mini with Wi-Fi models will be available on November 2 at Apple Online Store, Apple's retail stores, and select Apple Authorized Resellers in 34 countries including the US, Australia, Hong Kong, Japan and the UK. iPad mini with Wi-Fi + Cellular will start shipping a couple of weeks after the Wi-Fi models, beginning in the US on AT&T, Sprint and Verizon.
Customers can begin pre-ordering all models of iPad mini on Friday, October 26 through the Apple Online Stores like the US, Australia and several other countries.
However, the pricing and availability of iPad mini in India is still not known.
iPad mini has a completely new iPad design that is 23 percent thinner and 53 percent lighter than the third generation iPad. It features a stunning 7.9-inch Multi-Touch display, A6X chip, FaceTime HD and iSight cameras, ultrafast wireless performance and claims to give 10 hours of battery life. It features dual-band 802.11n Wi-Fi support for speeds up to 150 Mbps, which is twice the Wi-Fi performance compared to previous iPad models.