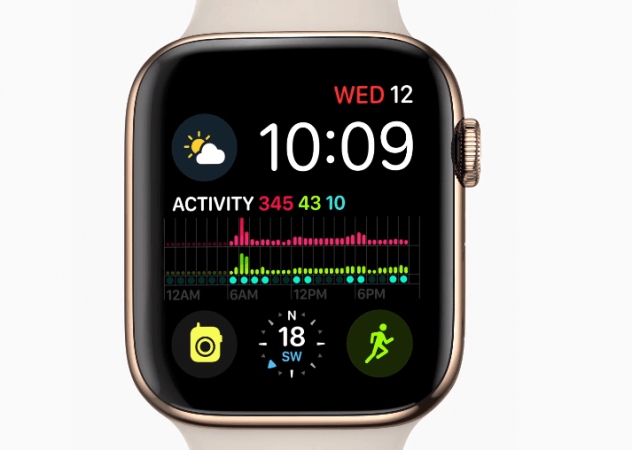 Apple has come up with the latest the Watch Series 4, along with the brand new iPhones for 2018.
The Watch Series 4 is offered in two sizes — 40mm and 44mm. Apple says the speaker is now 50 per cent louder and is upgraded for phone calls, Siri and Walkie-Talkie. The new mic aims to reduce echo to enhance the sound quality.
The Series 4 arrives with a new and bigger display with thinner bezels. The back is made of dark ceramic and sapphire gem, which Apple says can help with the connectivity of the device. It now has support for haptic feedback for a more responsive feeling to the device.
With the Apple Watch Series 4, the application symbols and text styles are presently bigger, with more data displayed on the screen.
The most significant feature, however, is that users would now be able to take an ECG reading right on from their wrist using the new ECG application, which makes use of the cathodes and new electrical heart rate sensor in the back.
With the application, users can get their heart readings in merely 30 seconds. It can say if the heart is beating at a standard rate of whether there are indications of Atrial Fibrillation (AFib), a heart condition that could prompt health problems.
The readings are put away in the Health application in a PDF that can be shared with doctors. It can likewise alarm the user if the heart rate surpasses or falls beneath a specified limit.
The device uses a cutting-edge accelerometer and a gyroscope, which measures up to 32 g-forces, alongside custom calculations to identify when hard falls happen. By breaking down wrist direction and effect acceleration, Apple Watch sends the user an alarm after a fall, which can be rejected or used to start a call to emergency services.
If Apple Watch detects idleness for 60 seconds after the notification, it will call emergency services and send a message alongside location to the user's emergency contacts.
With watchOS 5, Apple Watch turns into stunningly better fitness and workout sidekick. It can track calories consumed and exercise minutes. Running fans can make good use of the expanded battery life — which has been increased up to six hours.
Users can also talk to their companions with only a tap with Walkie-Talkie — a watch-to-watch communication that is an altogether new approach. WatchOS 5 likewise lets users listen to podcasts on the go, and offers excellent support for third-party apps.
The Apple Watch Series 4 (GPS) begins at $399 while the GPS + Cellular begins at $499. The Series 3 will be accessible at the cost of $279.