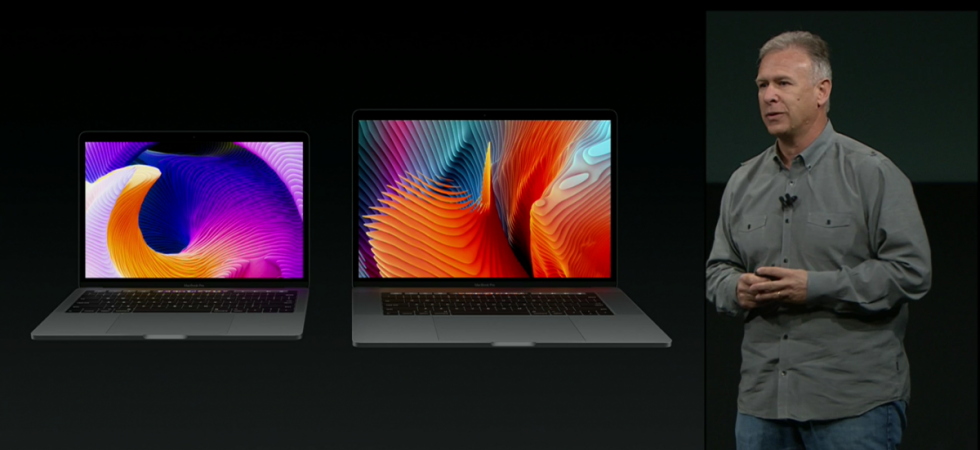 Highlights of the event are below:

Prices:

MacBook Pro 13-inch without Touch Bar: $1,499

MacBook Pro 13-inch with Touch Bar: $1,799

MacBook Pro 15-inch with Touch Bar: $2,399

Availability
The standard MacBook Pro with function keys will start shipping soon. The ones with Touch Bar will ship in a few weeks.
Check out the MacBook Pro key specs below:
11:50pm IST: Cook wraps up the event. Asks the attendees to experience the new machines at the demo zone. Thanks for staying with us.
11:47pm IST: MacBook Pro is thinner than the MacBook Air. It is also 13 percent lesser in volume and both machines weigh the same.
Fun fact: The all-new MacBook Pro is 6.8 million faster than the first PowerBook.
11:45 pm IST: MacBook Pro comes with macOS Sierra and delivers up to 10 hours of battery life.
11:40pm IST: The Touch Bar is like an iPhone with multi-touch integrated right inside a MacBook Pro.
11:35 pm IST: Algoriddim CEO takes the stage to give a demo the DJ Pro
11:30 pm IST: Touch Bar makes Photoshop easy. A demo in progress
11:25 pm IST: Final Cut Pro X demo
11:21 pm IST: MacBook Pro has i7 Core Intel processor (2133MHz memory), Radeon Pro 14nm GPU, faster storage with upt o 3.1Gbps.
MacBook Pro has 4 Thunderbolt 3 ports, DisplayPort 1.2, It can charge from any one of the four Thunderbolt ports. A 15-inch MacBook Pro can power 2 5K monitors.
11:20 pm IST: "TouchBar changes the experience on our Mac," Phil Schiller says.
11:16 pm IST: The Touch ID works seamlessly while switching between users by authenticating instantly.
11:15pm IST: Craig Federighi gives a full demo of the Touch Bar. It gives text formatting options, photo editing is made easy with all controls on the Touch Bar, and users can customise the control strip seamlessly.
11:10pm IST: TouchID comes to the Mac for the very first time. Login to the Mac with a simple fingertouch. It has a Sapphire crystal, so the touch feels smooth. And it also supports Apple Pay.
11:08pm IST: The touch panel replacing the function keys is called TouchBar.
11:06pm IST: Now the star of the MacBook Pro (Goodbye to the function keys). It is a Retina display, and reponds to gesture and touch.
11:05pm IST: New MacBook Pro comes in 13" and 15" models. The 13-inch model is 17 percent thinner than the previous generation. It weighs just 3 pounds even with its all-metal design.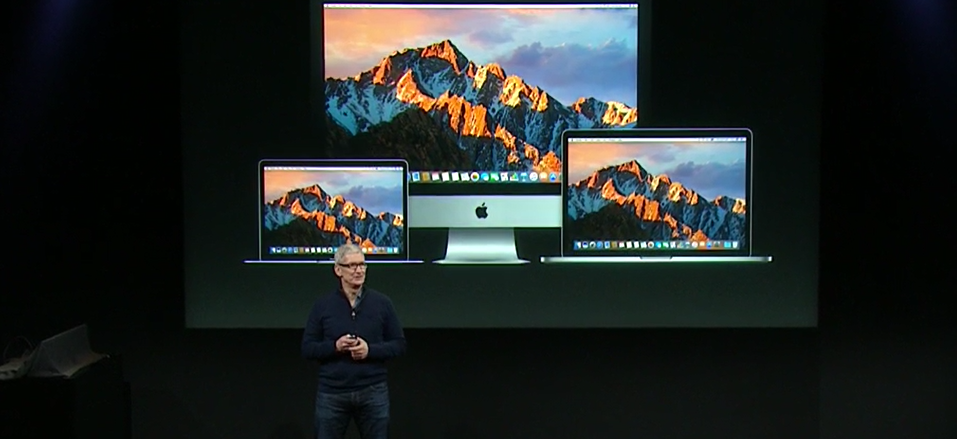 The 15-inch MacBook Pro is 15.5mm thin, 20 percent smaller in volume and weighs 4 pounds.
A force touch trackpad is twice as big. The keyboard has a second-gen butterfly mechanism.
110:02 pm IST: A video presentation shows all the Macs to date. And the new 2016 MacBook Pro is here. Yes! There's an OLED Touch pad just above the keyboard. Pretty cool design.
11:00 pm IST: Cook walks us through the history of Mac. Waiting for the new Mac, eagerly.
10:55 pm IST: Apple TV app will be available for free and pushed to all devices via OTA.
10:53 pm IST: TV app syncs all data, watching history across devices. You can also use Siri to pick up your favourite show from where you left off, or also get your favourite sports or news. Siri's integration with multiple apps is pretty impressive.
10:50 pm IST: Apple "TV" app brings TV shows and movies from different apps in one place. The app also works on iPhone and iPad.
10:47pm IST: Apple wants to bring unified TV experience by bringing all TV shows and other content in one place. Apple launches a new app and it is called "TV". Simplicity is the ultimate sophistication
10:45 pm IST: Twitter's product manager takes the stgae to showcase the future of video.
10:40 pm IST: Cook announces Apple TV. Minecraft is coming to Apple TV. (Build away)
10:35 pm IST: "Best camera and the best iPhone we've ever made,"Cook said. Confirms that the new iOS 10 powers 60 percent of the devices while iOS 9 runs on 32 percent and only 8 percent are on older versions.
10:31 pm IST: Apple CEO Tim Cook takes the stage. Starts the event with a few updates. Shares some reviews its latest iPhone 7 series has received.
10:30 pm IST: Right on time. The event starts with an advertisement showing Apple's successful lineup of devices, including iPhone, iPad, Apple Watch and finally iMac. A new iMac in the offing? Hope so.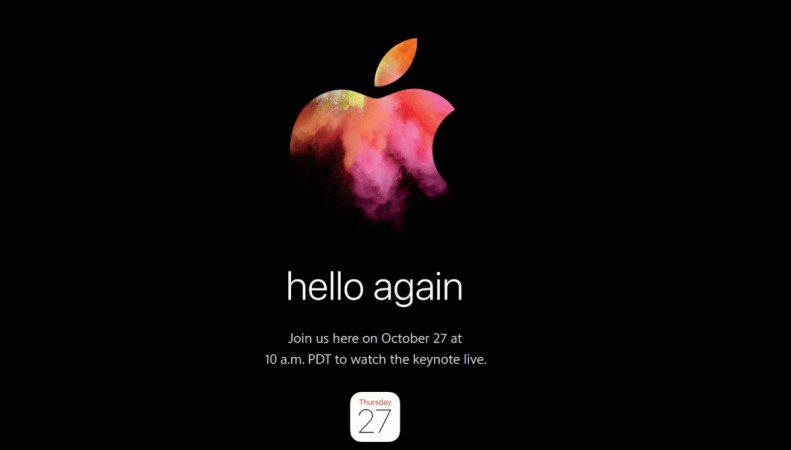 10:25 pm IST: The presentation will begin shortly. So will our updates.
10:15pm IST: Apple sure knows who to keep its fans entertained. Those who are streaming the event live are being treated with Calvin Harris' My Way. There is no reason why you shouldn't enjoy it while we wait.
Hello again. Welcome to our live coverage of Apple's special event. Our live updates will begin as soon as the event starts. Before Apple turns a new page on the MacBook Pro line, here's a video from the first ever MacBook Pro launch in 2006. And yes! there's Steve Jobs in his full glory.
Apple is all geared up for its special event on October 27, where it is widely expected to announce the all-new MacBook Pro.
The event is about to begin in a few minutes and fans around the world will witness what's next for Apple this year. Viewers can watch the event live from the company's official website. The keynote presentation is scheduled to start at 10 am PDT (10.30 pm IST/ 1pm EST).
In order to watch the event live, it is important to note that Apple uses HTTP Live Streaming (HLS) technology, making it watchable on only select devices, including iPhones, iPads, iPod touch with Safari on iOS 7.0 or later, a Mac with Safari 6.0.5 or later, OS X v10.8.5 or later or a Windows PC with Microsoft Edge on Windows 10.
For those who do not have compatible devices can follow IBTimes, India to bring all the major announcement from Thursday's event as they unfold. Latest updates will appear at the top of the article. Stay tuned.