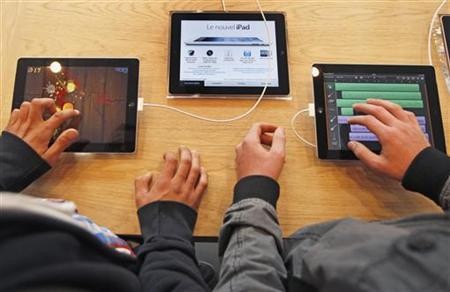 Apple Inc on Tuesday sent out invitations to media fraternities for the Oct 23 event in which the technology major is expected to unveil its new addition to the tablet range - iPad Mini.
The company kept the tech world on the heels of speculation, not revealing details of the event on the invitations which merely read, "We've got a little more to show you." The event will be hosted at the California Theatre in San Jose, California.
The development of a smaller version of the popular-selling iPad has been rumoured for quite sometimes, and even as reports of its productions surfaced, Apple continued to stand by its strict policies on secrecy.
iPad mini may come with a 7-inch screen, similar to the ones sported on Amazon's Kindle Fire, the Google Nexus 7 and the Samsung Galaxy Tab 10.1. It's also expected that the tablet might feature 3G and 4G LTE connectivity, and arrive in eight different models priced between $249 and $399, Mobile geeks said.
The German blog displayed a screenshot showing 16 iPad mini versions with its prices in Euros. The Wi-Fi only models would cost $320, $450, $580 and $710 for the 8GB, 16GB, 32GB and 64GB models, respectively. The cellular+Wi-Fi versions would be priced $450, $580, $710 and $840.
According to a Wall Street Journal report, around ten million units of iPad Mini are expected to be produced in the fourth quarter.
The upcoming event is scheduled three days ahead of Microsoft's launch of its latest operating system, Windows 8, scheduled on Oct 26.