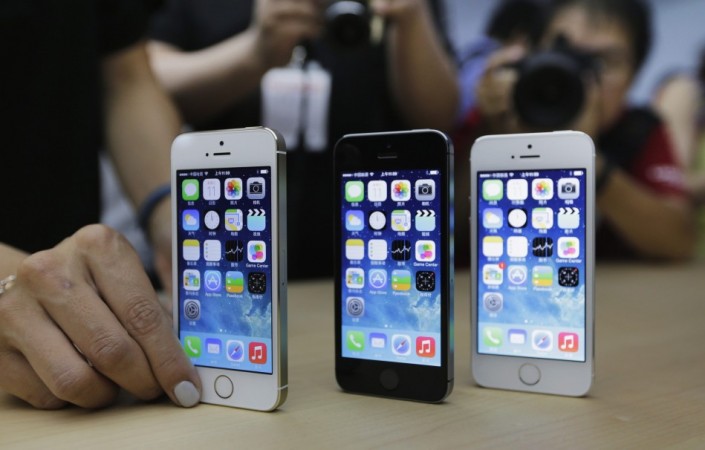 Cupertino-based Apple Inc., has retained its position as the top smartphone maker in the US, with a healthy 40 percent market share.
"Apple remains the dominant smartphone manufacturer in the U.S., but Samsung is catching up," said Harry Wang -- Director of Health & Mobile Product Research at Parks Associates -- in a press statement.
Apple's arch rival Samsung has nabbed the second position with 31 percent market share, while another South Korean phone maker LG came third with 10 percent, followed by Motorola, HTC and others.
Parks Associates, citing "360 View: Mobility & the App Economy" report, stated that one-third of Apple iPhone owners still have a model that is more than two years old, compared to 30 percent of Samsung phone owners.
This announcement comes just days after Apple disclosed the company's quarterly revenue (global) report.
Despite Apple posting record $75.6 billion revenue with quarterly net income of $18.4 billion, compared to $74.6 billion revenue with quarterly net income of $18 billion in the previous year (2014), the company said the next quarter would witness a slow growth in iPhone sales.
The company expects the second quarter revenue to range between $50 billion and $53 billion, apparently indicating that there will be a minimum $5-8 billion drop in earnings. Apple clocked $58 billion revenue in the same period of 2015. This will be the first time since 2007, when the first iPhone model was launched, that the company will witness a drop in sales.
Read more: Apple iPhone sales may decline for the first time next quarter
Since America is a developed market, the smartphone reach is almost at its peak. If people hang on to their devices longer, the market will witness slow growth in smartphone sales and Apple is seen as the biggest victim, considering the devices are expensive and many would wait at least two years to buy a new one. Taking cognisance of the slow growth rate, Apple recently announced an ungrade plan for iPhone owners, where they can exchange their old device for a new phone with attractive cash discounts.
With Samsung's new Galaxy S7 slated to hit stores next month, Apple, probably to curtail the rival smartphone's sales, is also planning to host a spring event to launch iPhone 5se and iPad Air 3 in March.
There is no confirmation from Apple about the March launch event, but several reports doing the rounds on the Internet suggest it's a real deal.
Stay tuned for more updates.