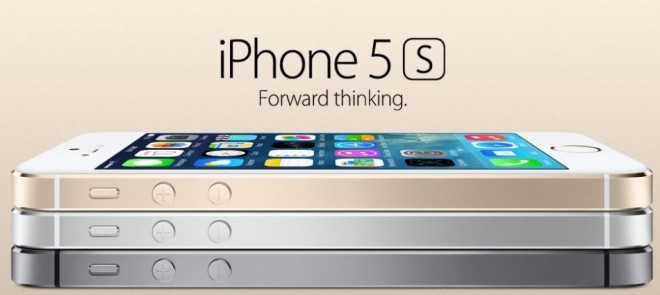 Apple Inc on Tuesday (10 September) finally pulled the wraps off its much anticipated iPhones - the premium next-generation iPhone 5S and the mid-range, plastic polycarbonate based iPhone 5C.
"iPhone 5s sets a new standard for smartphones, packed into its beautiful and refined design are breakthrough features that really matter to people, like Touch ID, a simple and secure way to unlock your phone with just a touch of your finger.", said Philip Schiller, Apple's senior vice president of Worldwide Marketing.
Commenting on the new low-cost iPhone, he said, "iPhone 5c is everything iPhone 5 was and more, in an all-new design packed with great features," and added that "iPhone 5c is designed with a beautiful polycarbonate enclosure that looks and feels so solid in your hand."
Apple iPhone 5S Features:
As expected, the new iPhone 5S has retained the 4.0-inch size and metallic finish contour design as seen in its predecessor. It flaunts a retina display with 1136x640p resolution having pixel density of 326 ppi (pixels per inch).
The new metal-clad phone ships with new generation Apple A7 (probably quad-core) processor paired with M7 motion co-processor and runs on iOS v7.0. Memory wise, it comes in three variants -16GB, 32GB, and 64GB. [To know the key features of new iOS v7.0, click here]
Camera specifications include an 8.0-megapixel camera with Dual-LED flash support called True Tone, f/2.2 aperture,5-element lens; full HD video recording and 3X zoom on the rear side. On the front side, it sports a 1.2-megapixel camera which can record HD 720p videos.
The striking feature of iPhone 5S is the finger-print reading sensor, known as 'ID Touch', on the home screen. It uses a laser cut sapphire crystal, with a capacitive touch sensor, to take a high-resolution image of a fingerprint. It can be used to identify users who go to the iTunes store, thereby cutting down on accidental purchases by children.
Apple iPhone 5C Features:
Apart from plastic polycarbonate body, iPhone 5C sports the same display resolution as iPhone 5S. It too sports a retina display with 1136x640p resolution having pixel density of 326 ppi (pixels per inch)
The smartphone runs on the new iOS v7.0 powered by A6 dual-core processor and houses an 8.0-megapixel camera with LED flash, 5-element lens on the rear side and a 1.2-megapixel camera on the front side.
Release date and price of Apple iPhone 5S and iPhone 5C:
Apple has confirmed that iPhone 5S and iPhone 5C would be up for pre-orders from 13 September. The devices would go on sale from 20 September, initially in the US, Australia, Canada, China, France, Germany, Hong Kong, Japan, Puerto Rico, Singapore and the UK.
iPhone 5S will be made available in three colour variants - gold, silver and space grey with prices fixed at $199 (₹12,700) for 16GB, $299 (₹19,000) for 32GB and $399 (₹25,500) for 64GB, with a two-year contract. On the other hand, iPhone 5C will sell in five colour variants - white, yellow, blue, pink and green with prices at $99 (₹6,300) and $199 (₹12,700) with contract.
Whereas unlocked iPhone 5S variants will be sold for 16GB-$649 (₹41,600), 32GB-$749(₹48,000) and 64GB-$849 (₹54,500). Indian Apple fans who were excitedly waiting to get their hands on the low-cost iPhone 5C will be unhappy to know that the new plastic iphone will have a hefty price-tag of $549-16GB (₹35,200) and 32GB-$649 (₹41,600) respectively. Considering the Rupee depreciation, the prices of iPhones may go up further by the time they hit the Indian stores.
Along with iPhones, Apple is also offering separate premium leather covers in multiple colours - beige, black, blue, brown, yellow and red (with soft, colour-matched microfiber lining) for $39 (around ₹2,500).
Despite Apple reaping huge success in iPhone sales in India, the company has no plans to release new smartphones in the subcontinent anytime soon.
The Cupertino-based company also announced that the new iOS v7.0 will free to all iPhone 4 models and above, iPad 2 and above generation tablets as well as iPad mini and fifth generation iPod touch devices, from 18 September.
Key specifications of Apple's premium iPhone 5S and low-cost 'iPhone 5C':
Model

Apple iPhone 5S

Apple iPhone 5C

Display

4.0-inch widescreen retina display with 1136x640p resolutions having pixel density having 326 ppi (pixels per inch)

4.0-inch widescreen retina display with 1136x640p resolutions having pixel density having 326 ppi (pixels per inch)

OS

iOS 7

iOS 7

Processor

Next generation 64-bit Apple A7 processor (up to twice faster than the previous generation chipset), and M7 motion co-processor

Dual-core Apple A6 processor

Storage

16GB, 32GB and 64GB

16GB and 32GB

Camera

8.0-megapixel camera with Dual-LED flash support called as True Tone, f/2.2 aperture, full HD video recording, 3X zoom, 5-element lens

Front: 1.2-megapixel camera, HD 720p video recording

Main: 8.0-megapixel camera with LED flash support, full HD video recording, f/2.4 aperture,3X zoom, 5-element lens

Front:1.2-megapixel camera, HD 720p video recording

Battery

Talk time: up to 10 hours (3G)

Standby time: close to 250 hours

Talk time: up to 10 hours (3G)

Standby time: close to 250 hours

Network

3G and 4G-LTE (in select markets)

3G and 4G-LTE (in select markets)

Add-ons

Finger-print scanner on Home button, improved voice-search feature Siri, NFC, Wi-Fi (802.11 a/b/g/n, 2.4GHz & 5GHz), Bluetooth v4.0,A-GPS, GLONASS, digital compass

Siri, Wi-Fi (802.11 a/b/g/n , 2.4GHz & 5GHz ), Bluetooth v4.0, A-GPS, GLONASS, digital compass tough plastic polycarbonate shell with multiple colour options

Dimensions

123.8 x 58.6 x 7.6 mm

124.4 x 59.2 x 8.97 mm

Weight

112 g

132 g

Colour options

gold, silver and space grey

Will come in white, blue, pink, yellow and green

Price

16GB-$199(₹12,700),32GB- $299(₹19,000) and 64GB- $399(₹25,500) with two-year contract, whereas unlocked variants will be sold for $649 (₹41,600), $749(₹48,000) and respectively $849 (₹54,500) respectively. Prices are expected to go up further in India

$99 (₹6,300) and $199 (₹12,700) with contract, whereas SIM-free variants will cost-$549 (₹35,200) and $649 (₹41,600) respectively. Prices are expected to go up further in India