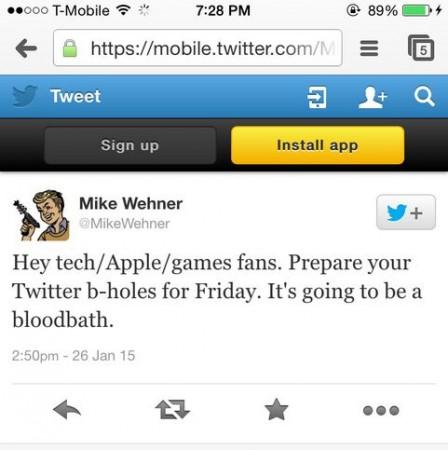 When you stay oriented to everything that's tech all the time, you do tend to come across a few strange things. And of all the strange things we have come across in news today, nothing takes the cake but the report that Apple is set to make a gaming-related announcement as early as this Friday.
While Apple may not be that dominant a name in the gaming industry, fraternity, it still has made its presence felt with a host of games that you can now download and play on your Apple-branded iPhones and iPads. However, it seems the company might now be looking at a more solid presence in the gaming industry. After all, it's one of the most lucrative ones around.
And a more solid Apple entry into the gaming industry could be realised as early as this Friday. That is, if Mike Wehner, a well known journalist associated with Daily Dot, TUAW, and USA Today is to be believed. Wehner recently put up quite a cryptic tweet stating that Apple could be set for a brand new gaming related announcement this Friday.
"Hey tech/Apple/games fans. Prepare your Twitter b-holes for Friday. It's going to be a bloodbath," Wehner tweeted, before he followed it up: "Mark it on your calendar and you'll see."
Sure, we aren't taking anything for granted at this point of time, but such a confidence only makes us more and more hopeful.
Interestingly enough, the tweet has since been deleted.
And going by past history on similar matters, the deletion of the tweet does lend credibility to the fact that the writer might have leaked a bit of information that wasn't supposed to be made public. However, guys over at Gamingbolt managed to save a screencap of it before the tweet was lost forever. By the looks of it, things seem believable at this point of time.
We aren't quite sure what the new gaming announcement from Apple will be like, and neither does anyone else on the Internet. However, the best we can do is to wait patiently until Friday. But let's not get over enthusiastic, although it's quite difficult not to be.