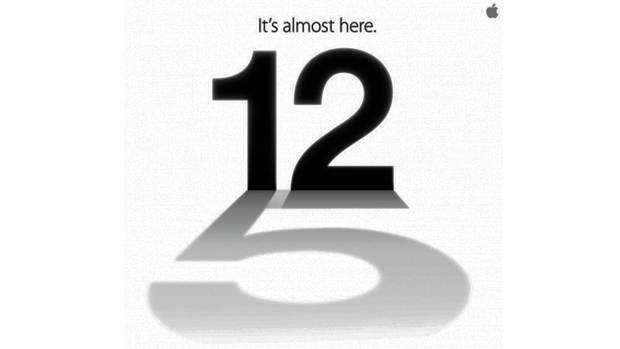 Apple Inc on Tuesday sent out media invites to a conference on Sept 12 in San Francisco, raising the likelihood that the Cupertino giant will finally unveil its highly anticipated iPhone 5.
The official invitation, which read "It's almost here", scripted the number 12 with a shadow of the number 5, which is said to be corresponding to the date of the event and the launch of the fifth-iteration device of the iPhone, Reuters said.
Much has been said on the release date and even the name of the much-awaited device. The invitation thus strongly hints that the same naming convention will be used as pointed out by the number "5".
Apple's strategy in keeping its unreleased products a secret has certainly helped build anticipation well before official product launches. Unlike several other companies like Microsoft who generally pre-announce gadgets to steal the spotlight from competitors' products, Apple generally announces "Apple Events" which usually don't provide clues about products in question.
Despite the flurry of speculation and criticism towards the company, such events are guaranteed to garner overwhelming attention from the press, thus elevating the popularity of their products.
With a couple of days left to go, speculation on iPhone 5 features has gained traction. Latest reports suggested that the device will sport a taller and bigger screen compared to last year's iPhone 4S. The device is also expected to arrive with 4G LTE service in the US and with a 9-pin connector port instead of the proprietary 30-pin dock connector.
Meanwhile, it was reported that the iPhone 5 may have found its way to the IFA trade show in Berlin, where a CEO of a cover and case manufacturer was said to have showed off the device. Though there's no way to tell if the smartphone is the actual iPhone 5, the smartphone was seen to be taller and with a headphone jack at the bottom.
But is it for real? According to a report on The Verge, the two-tone encased device is a mock-up and that production of cases for the next-generation iPhone 5 has already kicked off, thus explaining how the CEO might have got hold of the particular device.
Here's a video of the so said mock-up of the iPhone 5: