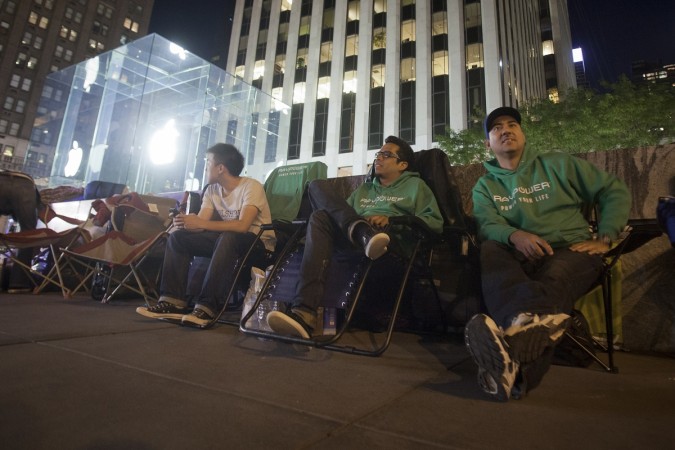 A day after the launch of iPhone 6 and 6 plus model, the Indian e-commerce sector and grey market witnessed a craze for Apple's latest version.
On eBay India, one can find the 16GB iPhone 6 being sold at a mind-boggling ₹1,00,000 while a 16 GB iPhone 6 plus is available for ₹1.1 lakh. The phone is expected to be priced between ₹48,000 and ₹50,000 for iPhone 6 -16 GB model and ₹58,000 and ₹60,000 for iPhone 6 Plus-16 GB model. The Apple India website said the phones would be available from 17 October.
There are some dealers who are offering the iPhone 6 and Plus 16 GB for ₹85,000 and ₹90,000, respectively. But, sales of Apple products through other dealers are not officially recognised and customers may or may not get the device.
In Indian grey market of New Delhi and Kolkata, the 16GB version of the iPhone 6 was priced at ₹55,000-60,000 with an additional cost of ₹5,000-10,000 on larger-screen model, according to The Economic Times.
Even though the 64 GB and 128 GB models are said to be available at a higher cost, a grey market dealer in Kolkata told ET that some customers were ready to pay the amount in full to book the model. The company has not made any official announcement regarding the prices in India.
The new iPhone pre-orders will initiate from 12 September for its launch in US, Australia, Canada, France, Germany, Hong Kong, Japan, Puerto Rico, Singapore and UK on 19 September.
This time, the iPhone comes with enlarged screens, curved edges and a slimmer design. The company seeks to beat its rival Samsung which has soared in Indian and international markets. On the other hand, Indian brands like Micromax and Lava have also joined the race to woo customers with smart features and lower prices.