Some Apple iPhone X users are finding a strange green line running on the right or left edges of the OLED panel on the smartphone. Technically, this problem is known as a potential hardware defect. Experts say that a problem with the electrical system is causing green line issue starting from the top of the bottom of the display.
At least 25 iPhone X users have posted images of this green line issue across Apple Support Communities, Twitter, Facebook, Reddit, and MacRumors forums.
The green line wasn't obvious on any of the affected iPhone X units when they were first unboxed but instead grew slowly after some time of usage in normal conditions. The iPhone X included in the pictures doesn't seem to have been dropped or harmed in any way.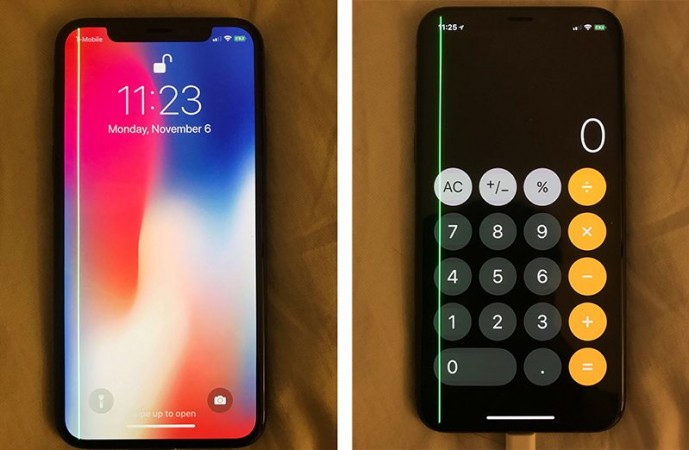 "Day one and a bright green line have appeared down the right side of the iPhone X," said Apple Support Communities user benvolio1979.
The complaints indicate that restarting or even restoring the device fully doesn't seem to remove the green line from the display. It is typically running on the vertical side of the display.
According to MacRumors, this issue is not limited to some specific iPhone models or locations. The reports are coming from both 64GB and 256GB configurations in Silver or Space Gray in the United States, Canada, Poland, and Australia.
@reneritchie Hi Rene, looks like I'm not the only one experiencing this vertical green line of pixels on the right side of the iPhone X. Tried to get in to the Genius Bar today but no appt. til Tuesday. Just tried a Restore without improvement... Ideas? pic.twitter.com/sE875qv5BI

— Scott hates (@scott4pendleton) November 4, 2017
Apple is replacing the affected iPhone X units free of cost, according to a customer who contacted the company. In addition, Apple is collecting data from the incident so that engineers can dig into the matter deeper, as it routinely does with any potential hardware or software issues.