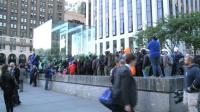 Apple may be reasonably up there, in terms of sales numbers and popularity, but it still hasn't quite caught on with a few around the world. And as it seems, a senior HTC official now falls in the list of "not wooed by iphone", among many others.
Apple is currently sitting pretty on top of the smartphone food chain, alongside the likes of Samsung and others. However, similar hasn't been the scene for HTC for quite some time. And although it does have a few good devices to show for under its belt, the company hasn't lived up to its expectations in the last few years.
Nonetheless, a certain jibe was targeted at Tim Cook and the Apple faithful when HTC's outspoken senior global online communications manager, Jeff Gordon took to Twitter to not only congratulate Apple on its brilliant quarterly results, but also labelling the iPhone as "terribly boring".
"Congrats to Apple on an amazing quarter," the tweet from Gordon read. "It's not that I dislike Apple--in fact I use a MacBook Air--but that I find iPhone terribly boring."
"iPhone is a boring, easy choice. I want a phone that's more unique, more personal, more stunning when I take it out of my pocket," he followed up. Needless to say, Gordon is trying to carve out a comparison for Apple handsets with the likes HTC One M7 and One M8.
While there will be mixed reactions to the claim made by Gordon via his Twitter post, it still needs to be said that the One M8 does stand out among the most well-crafted handsets out there. Not only does the smartphone look good, it also packs quite the punch, in coherence to its price tag.
On the other side, Apple, riding on that same "terribly boring" factor, has just recorded some massively impressive numbers, shifting 75 million units in a single quarter. Numbers don't lie, and nor does the fact that more than half of the world is hooked on to Apple handsets.
But then again, like all others, even Jeff Gordon is entitled to his opinions. But the "terribly boring" tag might seem a bit harsh for one of the most-loved handset technologies in the world.