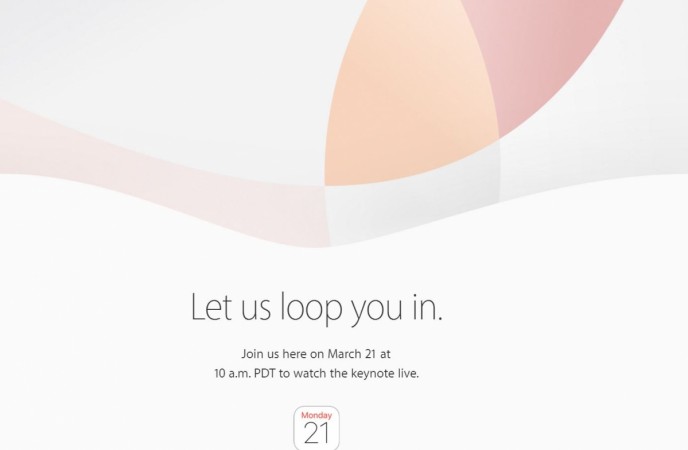 Apple's sprint event is scheduled to take place at the Town Hall auditorium in the Apple's 1 Infinite Loop campus' back yard in Cupertino, California.
The event will go live at 10:00 a.m. PST (10:30 p.m. IST). Apple has also made arrangements to stream the programme live online so the fans and tech enthusiasts who cannot make it to the launch arena be able to watch it on PCs and smart devices.
[Note: Live streaming uses Apple's HTTP Live Streaming (HLS) technology. HLS requires an iPhone, iPad, or iPod touch with Safari on iOS 7.0 or later, a Mac with Safari 6.0.5 or later on OS X v10.8.5 or later, or a PC with Microsoft Edge on Windows 10. Streaming via Apple TV requires an Apple TV (2nd or 3rd generation) with software 6.2 or later or an Apple TV (4th generation).]
Highlights of Apple spring event:
As per numerous reports, Apple is expected to unveil a new smartphone iPhone SE and a tablet iPad Pro 9.7-inch.
Apple iPhone SE is said to be the upgraded version of the 2013 flagship model iPhone 5S. On the other hand, iPad Pro 9.7-inch is expected to be smaller variant of the original 12.9-inch iPad Pro, which was unveiled in September 2015.
Read more: Apple Spring Event 2016: iPhone SE, iPad Pro 9.7-inch round-up
Interested readers can head to Apple's dedicated live streaming webpage to view the event, HERE.
Apple spring launch event live coverage time zone details:
| | | |
| --- | --- | --- |
| City | Time | Time-Zone |
| Cupertino (U.S.A- California) | Monday, March 21, 2016, 10:00:00 | PDT |
| San Francisco (U.S.A. – California) | Monday, March 21, 2016, 10:00:00 | PDT |
| New York (U.S.A. - New York) | Monday, March 21, 2016, 13:00:00 | EDT |
| Ottawa (Canada- Ontario) | Monday, March 21, 2016, 13:00:00 | EDT |
| Rio de Janeiro (Brazil – Rio de Janeiro) | Monday, March 21, 2016, 14:00:00 | BRT |
| London (United Kingdom – England) | Monday, March 21, 2016, 17:00:00 | GMT |
| Paris (France) | Monday, March 21, 2016, 18:00:00 | CET |
| Berlin (Germany) | Monday, March 21, 2016, 18:00:00 | CET |
| Amsterdam (Netherlands) | Monday, March 21, 2016, 18:00:00 | CET |
| Barcelona (Spain) | Monday, March 21, 2016, 18:00:00 | CET |
| Johannesburg (South Africa) | Monday, March 21, 2016, 19:00:00 | SAST |
| Moscow (Russia) | Monday, March 21, 2016, 20:00:00 | MSK |
| Abu Dhabi (United Arab Emirates - Abu Dhabi) | Monday, March 21, 2016, 21:00:00 | GST |
| Islamabad (Pakistan) | Monday, March 21, 2016, 22:00:00 | PKT |
| New Delhi (India - Delhi) | Monday, March 21, 2016, 22:30:00 | IST |
| Indonesia (Jakarta) | Tuesday, March 22, 2016, 00:00:00 | WIB |
| Beijing (China - Beijing Municipality) | Tuesday, March 22, 2016, 01:00:00 | CST |
| Hong Kong (Hong Kong) | Tuesday, March 22, 2016, 01:00:00 | HKT |
| Singapore (Singapore) | Tuesday, March 22, 2016, 01:00:00 | SGT |
| Taipei (Taiwan) | Tuesday, March 22, 2016, 01:00:00 | CST |
| Seoul (South Korea) | Tuesday, March 22, 2016, 02:00:00 | KST |
| Tokyo (Japan) | Tuesday, March 22, 2016, 02:00:00 | JST |
| Canberra (Australia - Australian Capital Territory) | Tuesday, March 22, 2016, 04:00:00 | AEDT |