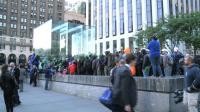 This is the kind of news a lot of us have been waiting for, for so long. Reports all over the Internet have claimed how it will soon be possible to exchange your old Android smartphone with a brand new iPhone. As good as it sounds, Apple is even said to throw in a gift card when you swap your device for an Apple iPhone.
Apple is said to soon start a smartphone trade-in program for non-Apple phone users, mainly for all those who have always wanted to use iPhones, but held back due to the price tags. The latest program could also be seen as an effort to convince Android or BlackBerry users to switch to iPhones.
A recent 9To5Mac report on the matter states that the new program will commence in the coming weeks, following "extensive training programs for retail store employees that will begin later this week." Apple employees are said to be able to transfer address book contacts from the rival smartphones to the iPhones, while other data will have to be moved by customers.
In case you didn't know, Apple had originally launched the iPhone Reuse and Recycle trade-in program back in mid-2013 to persuade upgrades from older iPhone models to the iPhone 5, iPhone 5s, and the iPhone 5c.
"In continuing to court Android switchers, Apple will use a similar system to the one it uses to repurchase iPhones, whereby Apple Retail Store employees determine trade-in values for devices by considering their cosmetic and functional condition, according to multiple sources," the report adds.
The recent trade-in program for non-Apple phones is a first such initiative from Apple. However, other companies like Gazelle and Amazon are already known for offering cash-for-phones deals in the past.
Stay tuned for more updates.